Krakatau volcano news & eruption updates:
Krakatau volcano Volcanic Ash Advisory: VA REPORTED TO FL030 EST VA DTG: 18/1200Z
Tuesday Dec 18, 2018 12:00 PM |
Satellite image of Krakatau volcano on 18 Dec 2018
Volcanic Ash Advisory Center Darwin (VAAC) issued the following report:
FVAU02 at 11:54 UTC, 18/12/18 from ADRM
VA ADVISORY
DTG: 20181218/1200Z
VAAC: DARWIN
VOLCANO: KRAKATAU 262000
PSN: S0606 E10525
AREA: INDONESIA
SUMMIT ELEV: 813M
ADVISORY NR: 2018/345
INFO SOURCE: CVGHM
AVIATION COLOUR CODE: ORANGE
ERUPTION DETAILS: VA REPORTED TO FL030
EST VA DTG: 18/1200Z
EST VA CLD: VA NOT IDENTIFIABLE FM SATELLITE DATA WIND
SFC/FL030 200/10KT
FCST VA CLD +6 HR: 18/1800Z NO VA EXP
FCST VA CLD +12 HR: 19/0000Z NO VA EXP
FCST VA CLD +18 HR: 19/0600Z NO VA EXP
RMK: CVGHM REPORT ERUPTION UP TO 300M ABOVE SUMMIT ON
18/1123Z. VA UNIDENTIFIABLE ON LATEST SATELLITE IMAGERY DUE
TO MET CLOUD. HEIGHT/WINDS BASED ON GROUND REPORT MODEL
GUIDANCE. ADVISORY WILL BE RE-ISSUED IF NEW INFORMATION IS
RECEIVED.
NXT ADVISORY: NO FURTHER ADVISORIES
Previous news
More on VolcanoDiscovery:
If you find the website useful and would like to support us and help keep it alive and improve it, please consider
making a small donation
.
Thank you!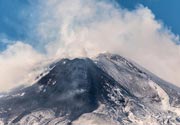 Etna trekking tour
: A tour entirely dedicated to Etna, the most active volcano in Europe. Spend 6 full days on Etna and get good chances to see eruptive activity.