Krakatau volcano news & eruption updates:
Large part of Anak Krakatau has collapsed into the sea - reconstruction of the eruption
Sunday Dec 23, 2018 17:18 PM | BY: T
Steam and ash explosions at Krakatau seen this morning (Image: Dicky Adam Sidiq/kumparan)
Satellite image taken yesterday after the collapse, possibly showing one of the tsunami waves (image: Sentinel 1, annotations by R. Natsuaki @flyingwktk / twitter)
Comparison of Anak Krakatau before and after the flank collapse (image: Sentinel 1)
First visual information about the situation on Anak Krakatau island group itself has come in, revealing that a large part of Anak Krakatau's SW flank has collapsed, which most likely is the trigger for last night's tsunami.
An overflight of was undertaken today by the
Kumparan agency
and revealed continuous, violent phreatomagmatic explosions, i.e. driven by lava and water interaction.
The combined information allows a rough reconstruction of the events:
#1 A new surge of magma arrives in the upper conduit of Anak Krakatau from around 20-21 Dec, causing increasing explosive and effusive activity - strombolian explosions or lava fountains, and lava flow emission - from the summit vent. It looked more or less like this:
(video from a similar paroxysm in Sep 2018)
This activity probably reached its peak on the evening of 22 Dec, when it was clearly visible by naked eye from more than 40 km away on the coast.
#2 In the evening of 22 Dec, lava fountains fed flows that reached the sea, probably on the south or southeast shores of Anak Krakatau, in similar locations as during previous episodes this year.
#3 Around 21:00 local time, the weight of rapidly accumulated lava on the subaerial and submerged cone of Anak Krakatau triggered an instability and a larger landslide removed a part of the southwestern cone - a flank collapse occurred. This rapid displacement caused the (small, but devastating) tsunami which reached the Java coast around 21:30 (local time).
#4 As a consequence, sea water gained access to large masses of hot rocks and possibly the conduit itself, triggering an ongoing series of steam explosions that produced the steam and ash plume first observed later this morning on satellite data and seen in this video:
Erosion of material from the ongoing explosive activity and along the new shoreline continues to eat away parts of the island.
What will come next?
This is difficult to say, but at least to a large extent it will depend on how much magma continues to rise, whether new collapses occur and so on. A possibility of even larger explosions, pyroclastic flows, tsunamis is clearly increased.
The alert level of the volcano was raised to red.
Previous news
More on VolcanoDiscovery: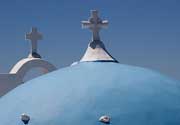 Photos from Greece
: We have traveled and studied extensively in Greece, in particular on its active volcanic areas such as Santorini, Nisyros, Milos, Methana.
Latest VAAC alerts
: The Volcanic Ash Advisory Centers provide near-real time global monitoring of volcanic ash plumes for aviation. Read the latest (or browse past) advisories.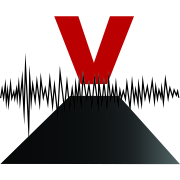 Try our new app!
: Volcanoes & Earthquakes - our new free App for Android shows the latest earthquakes and active volcanoes on a map and as list, as well as volcano news from all the world. You can filter the data shown in various ways, e.g. by magnitude or age of earthquakes, the distance from your location, the status of volcanoes and so on.