Krakatau volcano news & eruption updates:
Krakatau volcano (Indonesia): violent phreatomagmatic explosion caught by camera
Tuesday Jun 25, 2019 15:49 PM | BY: T
This morning's explosion at Krakatau (image: PVMBG)
Seismic trace of the eruption (image: Magma Indonesia / PVMBG)
Seismic activity from Krakatau during the past months (image: Magma Indonesia)
The volcano continues to be restless. Most of the time, its crater is only steaming, but occasionally, strong steam-driven explosions happen.
One occurred earlier today at 09:18 local time and was captured today by a monitoring camera installed near the crater rim:
Eruption of Anak Krakatau this morning captured by CVGHM's camera. pic.twitter.com/27VBJ0cqfp

— Devy Kamil Syahbana (@_elangtimur) June 25, 2019
These so-called surtseyan explosions are driven by violent interaction of magma or hot rocks or other fluids in the conduit with water, as the vent is still flooded. The video shows typical jets of dark trails of ash and steam ("rooster tails") as well as dangerous white steam surges spreading laterally over the ground.
Overall, seismic activity at Krakatoa remains well above background.
Previous news
More on VolcanoDiscovery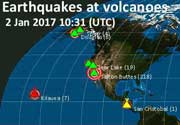 Earthquakes near Volcanoes
: Our world-wide map continuously detects shallow earthquakes near volcanoes. These could be early signs of unrest and often precede eruptions.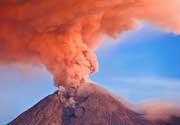 Merapi volcano photos
: One of the most active and most dangerous volcanoes of Indonesia: Merapi meaning "the one who makes fire", is a feared but also venerated holy mountain looming over the city of Yogyakarta, capital of Central Java.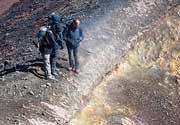 Private tours on Etna volcano
: Discover Europe's largest active volcano on private, guided 1-day tours. Tours can be customized for different interests and fitness levels.