Anak Krakatau came back to life in late October 2007, following a significant eruption in 1996 and a minor one in 2001. To document this extraordinary volcano, VolcanoDiscovery has been organizing many special expeditions to Krakatau since Nov 2007, where we spend 3-6 days on the island each. For those interested, expeditions can be arranged at fixed dates for small groups or for individuals at custom dates. Have a look at the
Krakatau Special
page.
Collections
More on VolcanoDiscovery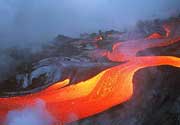 Kilauea volcano photos
: The most active volcano in the world with a record long lasting eruption since 1983: images of lava flows, lava lakes, explosions, lava meeting the ocean, aerials and more.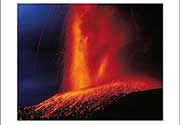 Vulkane Italiens - order online
: 88 pages, brilliant color photos, German language - this beautifully illustrated guidebook is a perfect introduction and companion for all interested in Italy's rich and varied volcanic areas.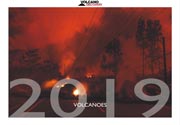 Volcano Calendar 2019
: We're proud to present our 2019 volcano calendar: 13 different and attractive images of volcanoes, volcanic landscapes and phenomena taken during volcano tours over the past few years.