Kuchinoerabu-jima volcano news & activity updates:
Kuchinoerabu-jima volcano (Japan): strong eruption this morning, generating pyroclastic flow
Monday Feb 03, 2020 16:17 PM | BY: T
Eruption of Kuchinoerabujima volcano this morning (screenshot of JMA webcamera recording)
A strong explosive vulcanian-type eruption occurred this morning at the volcano: at 05:31 local time, a violent explosion with plenty of incandescent material (similar to a lava fountain) erupted and generated an ash plume that reached approx. 7000 m (21,000 ft) altitude and drifted into southerly directions.
Abundant volcanic lightning and a hot pyroclastic flow (looking like a quickly flowing lava flow) which quickly traveled to the lower base of the cone accompanied the eruption, as can be seen in the recording of the JMA webcams:
Ash fell all the way to Yakushima Island. No evacuation was called for the approx. 100 residents of the small island.
---
Links / Sources:
Previous news
More on VolcanoDiscovery: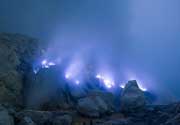 Ijen volcano photos
: Ijen volcano in East Java is famous for its turquoise acid crater lake and the large sulfur deposits that are being mined by local workers. At night, the scene is illuminated by ghostly blue flames, as sulfur ignites.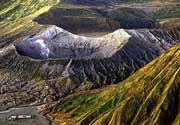 Bromo volcano photos
: Bromo is one of Indonesia's most visited volcanoes. It is the most active vent inside the huge Tengger caldera and erupts every few years.
Sakurajima volcano photos
: One of the world's most active volcanoes, Sakurajima on Japan's Kyushu Island is famous for its frequent vulcanian explosions, often accompanied by eruption lightning.