Kuchinoerabu-jima volcano news & activity updates:
Kuchinoerabu-jima volcano (Ryukyu Islands, Japan) activity update: small eruptions continue
Wednesday Feb 05, 2020 08:53 AM | BY: MARTIN
Eruption of Kuchinoerabujima volcano on 3 February (image: Twitter)
The volcanic activity continues on Kuchierabu Island.
The Japan Meteorological Agency (JMA) recorded small eruptions after the eruption on 3 February.
The seismic station records decreasing of volcano-tectonic earthquakes. They recorded 77 volcano-tectonic events and 9 tremors since the last eruption.
Sulfur dioxide (SO2) emissions reached to a 1700 tonnes/day.
The warning bulletin states that ballistic impacts of volcanic bombs and pyroclastic flows could affect an area of about 2 km distance from the main crater.
Source: Japan Meteorological Agency volcano activity update 5 February 2020
Previous news
More on VolcanoDiscovery: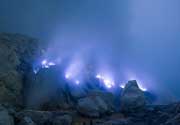 Ijen volcano photos
: Ijen volcano in East Java is famous for its turquoise acid crater lake and the large sulfur deposits that are being mined by local workers. At night, the scene is illuminated by ghostly blue flames, as sulfur ignites.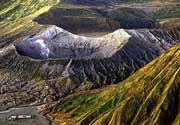 Bromo volcano photos
: Bromo is one of Indonesia's most visited volcanoes. It is the most active vent inside the huge Tengger caldera and erupts every few years.
Sakurajima volcano photos
: One of the world's most active volcanoes, Sakurajima on Japan's Kyushu Island is famous for its frequent vulcanian explosions, often accompanied by eruption lightning.