Zavaritzki volcano
Updated: Jul 6, 2022 01:18 GMT -
Refresh
caldera 624 m / 2,047 ft
Simushir Island (Kuril Islands), 46.93°N / 151.95°E
Current status: normal or dormant (1 out of 5)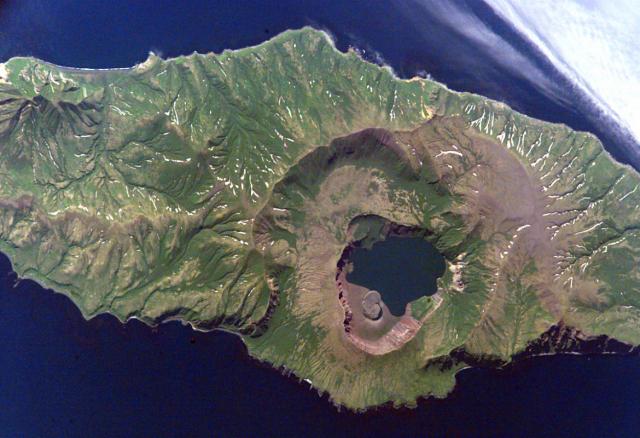 The caldera of Zavaritzki volcano on Simushir Island, Kuriles. NASA International Space Station image ISS-5-E-6512, 2002 (http://eol.jsc.nasa.gov/)
Zavaritzki (Zavaritzky) volcano is a large caldera volcano in central Simushir Island, Kuriles. It is a complex of 3 nested calderas with a central lake (Lake Biryuzovoe). 2 eruptions have occurred at Zavaritzki during the 20th century: a recent lava dome was formed between 1916-1931 and created a small island in the northern part of the lake. The second eruption in 1957 formed a new, 350 m wide and 40 m high lava dome also in the northern part of the lake, which decreased a lot in size. The lava dome extrusion was preceded by explosions.

Note: A volcano with the same name is located in Kamchatka.
Typical eruption style:
explosive
Zavaritzki volcano eruptions:
1957, 1923
Lastest nearby earthquakes:
No recent earthquakes
Background
The caldera of Zavaritzki volcano consists of 3 nested calderas of 10-, 8-, and 3-km diameter. The steep-walled youngest caldera was formed during the past 10,000 years. It is filled with a lake whose surface is about 40 m elevation and whose bottom lies about 30 m below sea level.
Several young cones and lava domes are located near the margins of Biryuzovoe caldera lake. Stratigraphic evidence (lake sediments overlying pumice deposits at higher levels) indicate that an earlier caldera lake was much higher, at ca. 200 m above sea level.
Source: Smithsonian GVP Zavaritzki volcano information



15 Nov 2006 earthquake
A magnitude 7.8 earthquake occurred 100 km SE of the volcano on 15 November 2006.

See also: Sentinel hub | Landsat 8 | NASA FIRMS