Lanzarote volcano
shield volcano 670 m
Canary Islands (Spain), 29.01°N / -13.75°W
Current status: normal or dormant (1 out of 5)
Last update: 31 Oct 2015

The 60-km-long island of Lanzarote at the NE end of the Canary Islands contains the largest concentration of youthful volcanism in the Canaries.
Typical eruption style
: Explosive
Lanzarote volcano eruptions
: 1824
Latest nearby earthquakes
| | | |
| --- | --- | --- |
| Time | Mag. / Depth | Distance/Location |
Background
Pleistocene-and-Holocene cinder cones and lava flows erupted along NE-SW-trending fissures are found throughout the low-altitude arid island and on smaller islands to the north. The largest historical eruption of the Canary Islands took place during 1730-36, when long-term eruptions from a NE-SW-trending fissure formed the Montañas del Fuego and produced voluminous lava flows that covered about 200 sq km. The lava flows reached the western coast along a broad, 20-km-wide front. The villages of Maretas and Santa Catalina were destroyed, along with the most fertile valleys and estates of the arid island. An eruption during 1824 produced a much smaller lava flow that reached the SW coast. Source: Smithsonian GVP
Lanzarote Photos
Volcanic coast Los Hervideros, Montanas del fuego in background, Lanzarote Isl., Canaries (Photo: WNomad)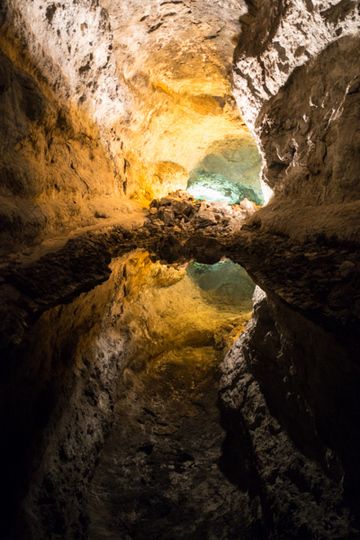 Lanzarote - Cueva de Los Verdes Pt 1: It is a part of a cave-system formed in the lava flow from the volcano Monte Corona around 3000 years ago. The lava at the top coole...
Lanzarote volcano tours:

Europe's Volcanic Outpost
(Walking and study tour to the Canary Islands: Lanzarote, La Palma, El Hierro and Tenerife)

See also: Sentinel hub | Landsat 8