List, maps and statistics of the 20 largest earthquakes on Monday, 21 Sep 2020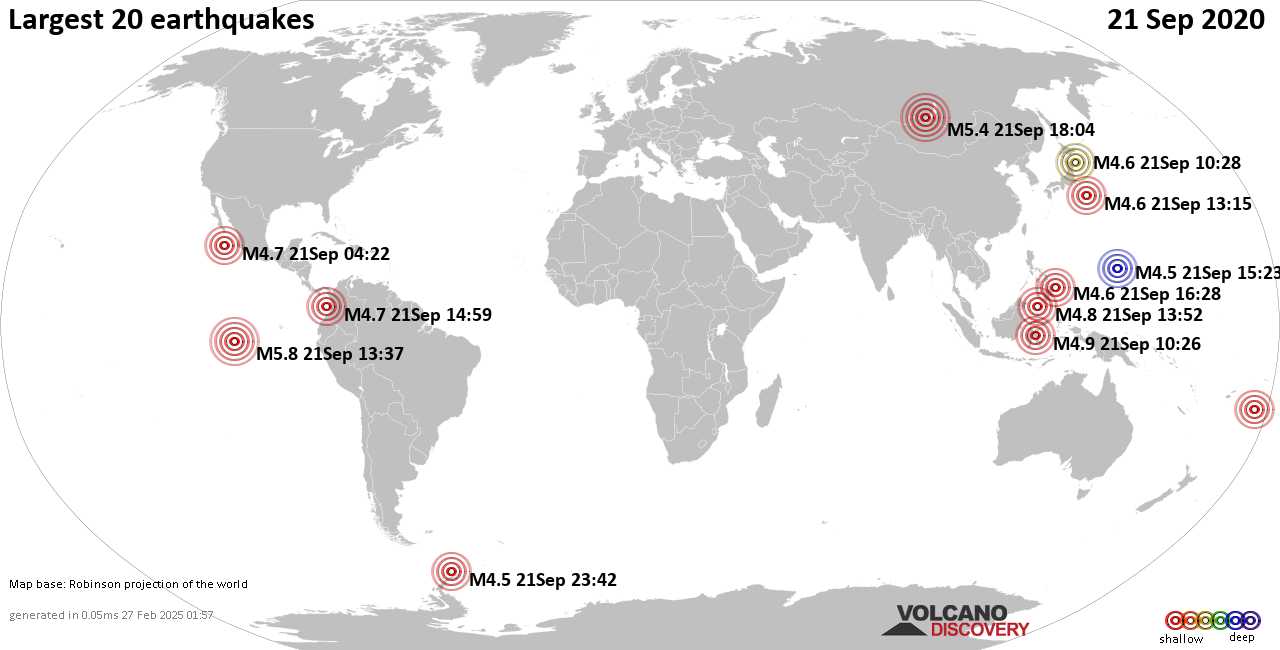 List, maps and statistics of the 20 largest earthquakes on Monday, 21 Sep 2020
Time (UTC): Monday, 21 Sep 2020 13:37
Hypocenter depth: 10.0 km
More info about this earthquake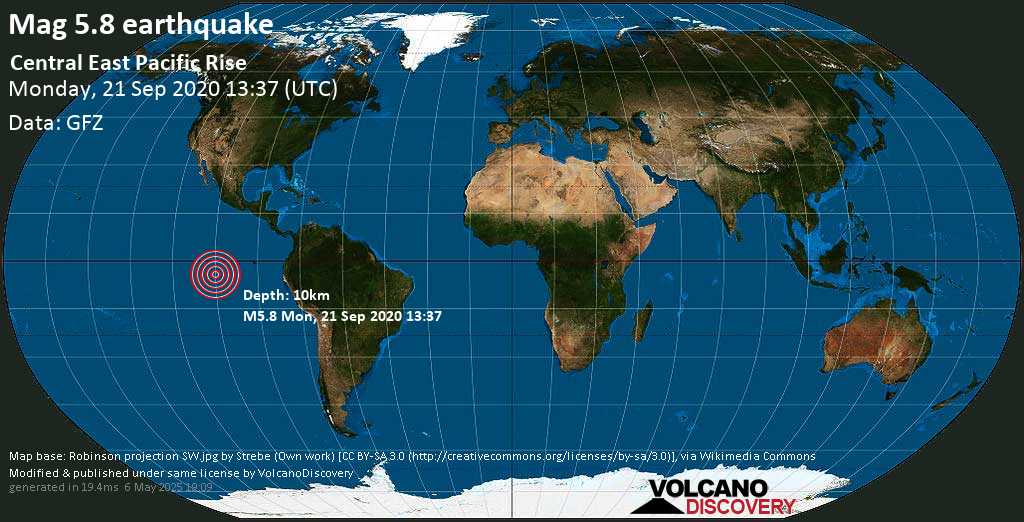 ---
Time (UTC): Monday, 21 Sep 2020 12:27
Hypocenter depth: 10.0 km
More info about this earthquake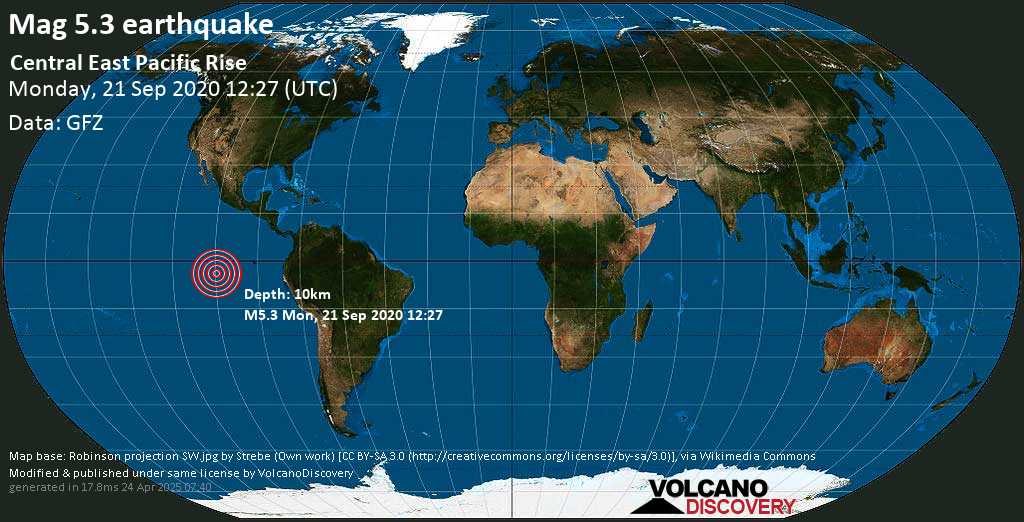 ---
Time (UTC): Monday, 21 Sep 2020 18:04
Hypocenter depth: 10.0 km
More info about this earthquake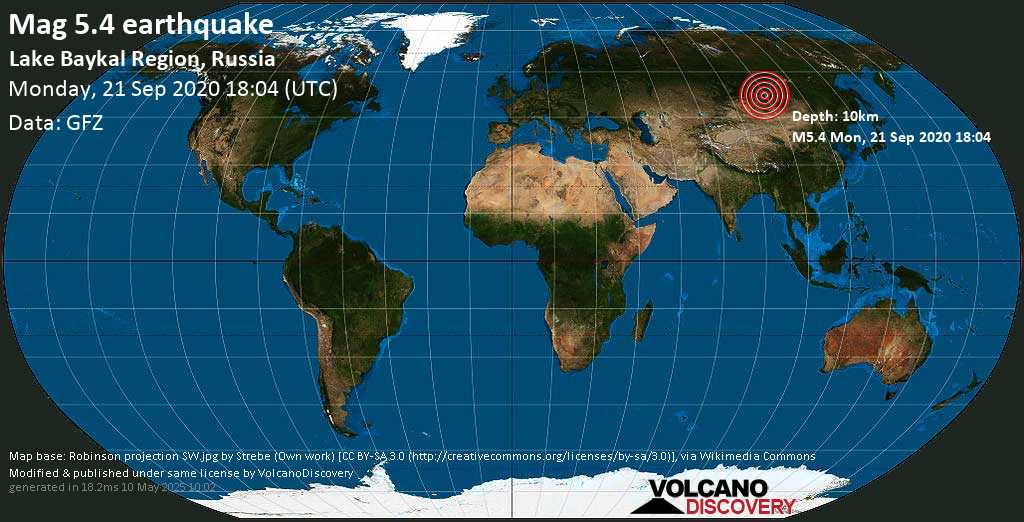 ---
---
Time (UTC): Monday, 21 Sep 2020 12:06
Hypocenter depth: 10.0 km
More info about this earthquake
---
Time (UTC): Monday, 21 Sep 2020 10:26
Hypocenter depth: 10.0 km
More info about this earthquake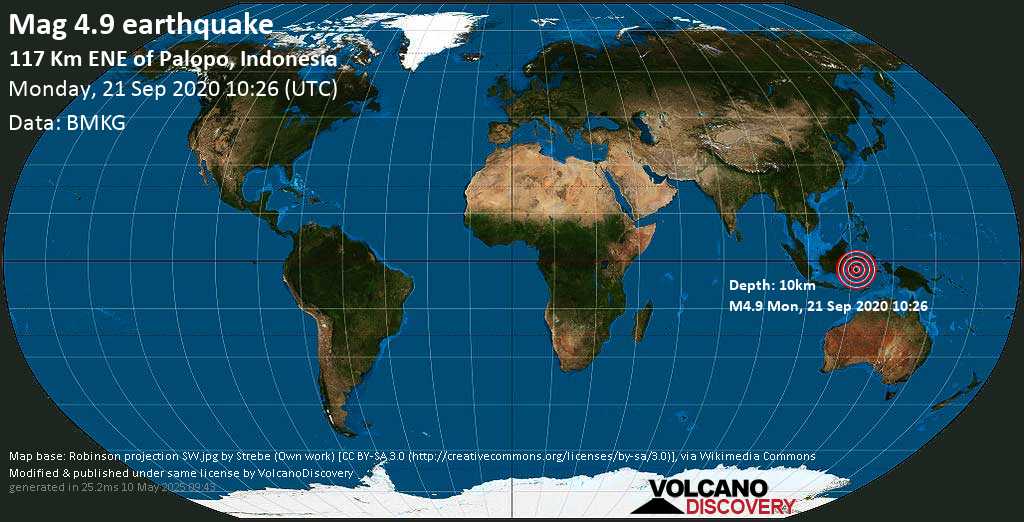 ---
Time (UTC): Monday, 21 Sep 2020 13:52
Hypocenter depth: 10.0 km
More info about this earthquake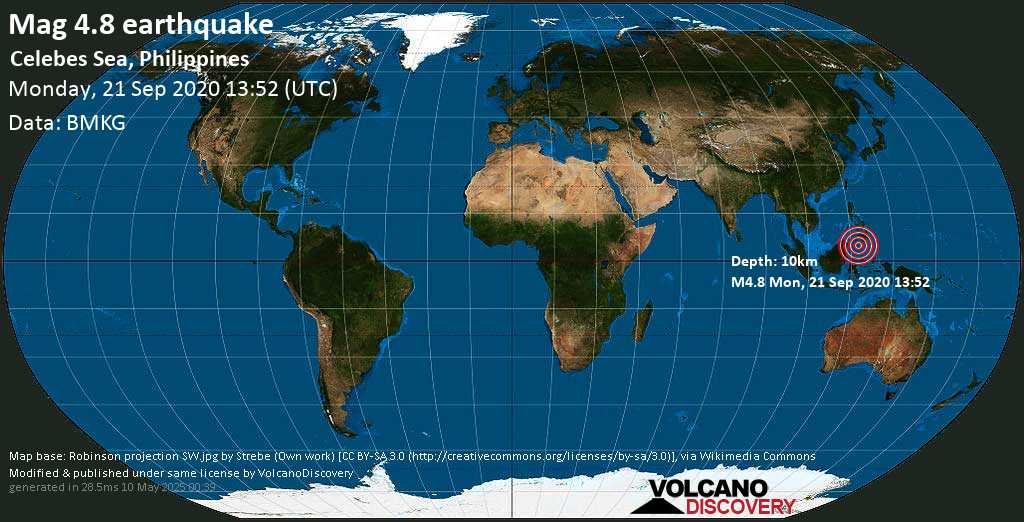 ---
Time (UTC): Monday, 21 Sep 2020 04:22
Hypocenter depth: 10.0 km
Local time at epicenter: 2020-09-20 23:22:10 (Hora de México)
More info about this earthquake
---
Time (UTC): Monday, 21 Sep 2020 14:59
Hypocenter depth: 20.0 km
More info about this earthquake
---
Time (UTC): Monday, 21 Sep 2020 18:55
Hypocenter depth: 36.0 km
More info about this earthquake
---
Time (UTC): Monday, 21 Sep 2020 17:57
Hypocenter depth: 10.0 km
More info about this earthquake
---
Time (UTC): Monday, 21 Sep 2020 06:34
Hypocenter depth: 119.0 km
More info about this earthquake
---
Time (UTC): Monday, 21 Sep 2020 09:00
Hypocenter depth: 10.0 km
Local time at epicenter: 2020-09-21 04:00:02 (Hora de México)
More info about this earthquake
---
Time (UTC): Monday, 21 Sep 2020 13:15
Hypocenter depth: 10.0 km
More info about this earthquake
---
Time (UTC): Monday, 21 Sep 2020 16:28
Hypocenter depth: 10.0 km
Local time at epicenter: 21 September 2020 - 12:28 PM (PST)
More info about this earthquake
---
Time (UTC): Monday, 21 Sep 2020 18:08
Hypocenter depth: 18.0 km
More info about this earthquake
---
Time (UTC): Monday, 21 Sep 2020 18:19
Hypocenter depth: 10.0 km
More info about this earthquake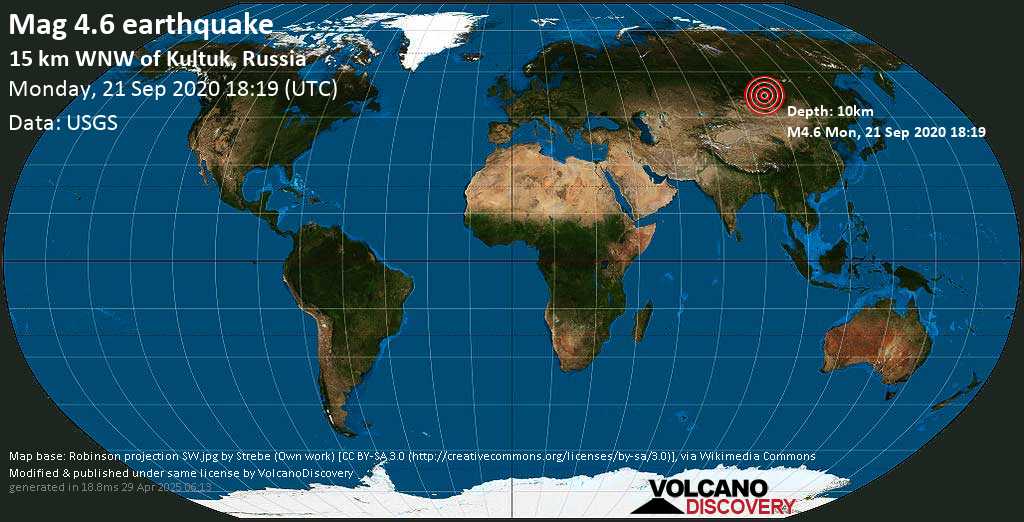 ---
Time (UTC): Monday, 21 Sep 2020 23:42
Hypocenter depth: 10.0 km
More info about this earthquake
---
Time (UTC): Monday, 21 Sep 2020 15:23
Hypocenter depth: 112.8 km
More info about this earthquake
---
Time (UTC): Monday, 21 Sep 2020 01:39
Hypocenter depth: 10.0 km
More info about this earthquake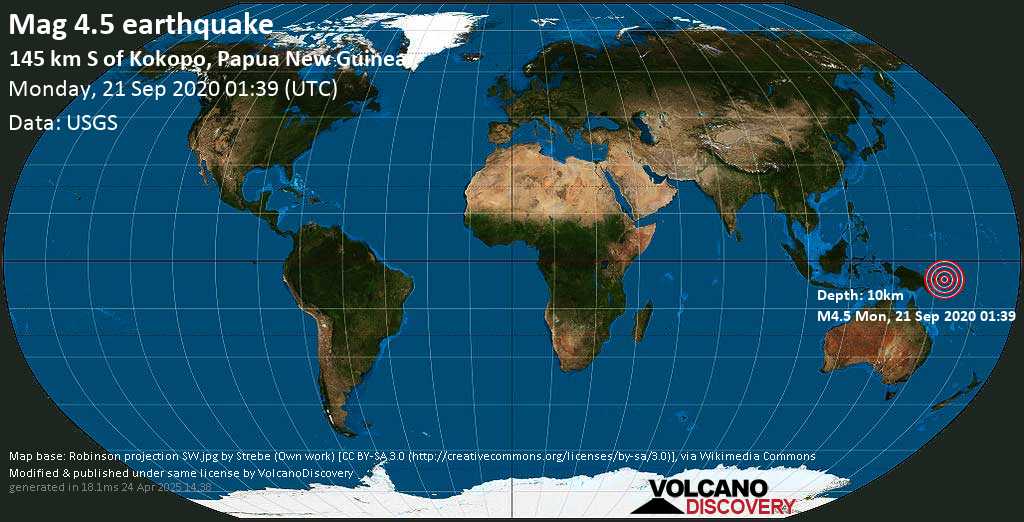 ---
Time (UTC): Monday, 21 Sep 2020 19:58
Hypocenter depth: 40.0 km
More info about this earthquake
---
Earthquake statistics
Number of daily quakes:
Magnitude and energy vs time:
Magnitude and energy distribution:
More on VolcanoDiscovery
Support us!
Maintaining the website and our free apps is a time- and cost-intensive effort.
If you find the information useful and would like to support our team to develop further features and get the upgraded ad-free version, consider
making a donation
(
PayPal
or
Online cc payment
).
Planned features:
Weather reports
Tsunami alerts
Design upgrades
Thanks to your past donations
, these features have been added recently:
Earthquake archive back to 1900
Additional data sources
Download and Upgrade the Volcanoes & Earthquakes app
to get one of the fastest seismic and volcano alerts online:
Android
|
IOS
Thank you!