Las Lajas volcano
Updated: Jul 5, 2022 06:12 GMT -
Refresh
shield volcano 926 m / 3,038 ft
Nicaragua, 12.3°N / -85.73°W
Current status: normal or dormant (1 out of 5)
Las Lajas is a basaltic shield volcano 20 km north of Lake Nicaragua. La Lajas is the youngest of a group of volcanoes east of the Nicaraguan graben. Based on its fresh morphology, it could be still active.
Las Lajas volcano has a 7 km wide and 650 m deep caldera, which contains 5 lava domes in the center and is cut by a narrow canyon on the SE side. There are lava domes and cones on the outer flanks.
Typical eruption style:
effusive
Las Lajas volcano eruptions:
unknown, no recent eruptions
Lastest nearby earthquakes:
No recent earthquakes
Las Lajas Photos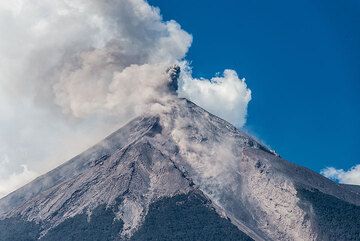 View of Fuego from the east on 31 Dec 2015: the prominent ravine is one of the main channels of pyroclastic flows into the Las Lajas and San Antonio canyons further downs...

See also: Sentinel hub | Landsat 8 | NASA FIRMS