Lava Butte volcano
Updated: Aug 17, 2022 22:04 GMT -
Refresh
Shield(s) 1447 m / 4747 ft
Oregon, United States, 43°N / -117.42°W
Current status: (probably) extinct (0 out of 5)
Typical eruption style:
unspecified
Lava Butte volcano eruptions:
None during the past 10,000 years
Less than few million years ago (Pleistocene)
Lastest nearby earthquakes:
No recent earthquakes
Background
The Lava Butte shield volcano, also known as Rocky Butte, lies south of Jordan Craters, and is 0.03-0.09 million years old (Hart and Mertzman, 1983). The slightly older Clarks Butte shield lies to the north and has been dated at 0.25 million years. Another unnamed shield volcano lies to the east of Lava Butte.
---
Source: Smithsonian / GVP volcano information
Lava Butte Photos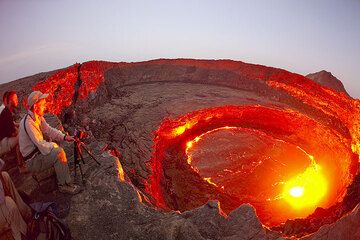 Claude, Olivier and Paul watch the activity of the lava lake. (Photo: Tom Pfeiffer)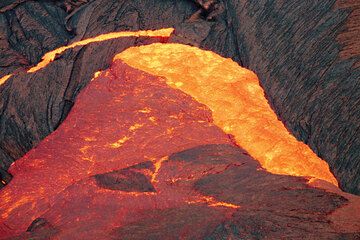 Liquid lava floods older crust. The weight of the flooding lava causes new fractures and new segments of the crust to overturn (upper left of the photo). (Photo: Tom Pfe...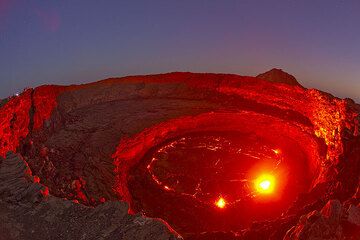 Erta Ale volcano's lava lake back in Nov 2009.
The red glow of the lava illuminates the crater walls under the blue sky of dusk. A small group of observers is on ...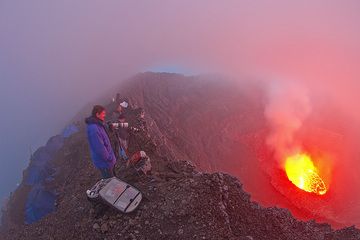 Evening twilight at the rim near the campsite. (Photo: Tom Pfeiffer)

See also: Sentinel hub | Landsat 8 | NASA FIRMS