Level Mountain volcano
Updated: Nov 27, 2022 12:34 GMT
-
shield volcano 2190 m / 7,185 ft
Canada, 58.42°N / -131.35°W
Current status: (probably) extinct (0 out of 5)
Level Mountain in NW British Columbia, Canada, SW of Dease Lake and north of Telegraph Creek is the most voluminous and most active volcano of the Stikine volcanic belt.
Typical eruption style:
explosive
Level Mountain volcano eruptions:
unknown (Holocene ?)
Latest nearby earthquakes
No recent earthquakes
Background
The massive volcano covers an area of 1800 sq km and contains about 860 km3 of lava. It has several eruptive centers and overlies an older Miocene basaltic shield volcano. In the ice ages, it was heavily eroded. Silicic lava domes were constructed about 3 million years ago after the main shield volcano had been built. Lesser activity continued into the Quaternary and probably even the Holocene (less than 11,000 years ago).
There are over 20 eruptive centers that have been identified in the central portion of Level Mountain and on its flanks.
Level Mountain Photos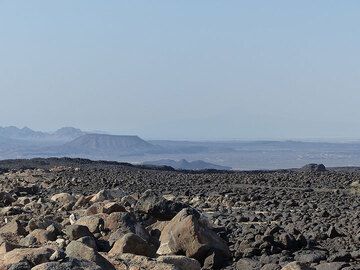 DAY 3: From Logia to Afrera salt lake - near sea level desert landscape with lava flows and volcanic mountain chains (Photo: Ingrid)




See also: Sentinel hub | Landsat 8 | NASA FIRMS