Latest news & updates for Long Valley Caldera volcano
Long Valley volcano (California) activity update: small earthquake swarms
Fri, 24 Aug 2012, 12:05
12:05 PM | BY: T
Small earthquake swarm at Long Valley on 24 Aug 2012
A small earthquake swarm has developed at the southern margin of the caldera, just north of Convict Lakes. The largest was a 2.5 event at 10 km depth.
Continuous GPS data over the last several months have shown a modest inflation within the caldera, with ground motion directed upward and away from the caldera's center, with a maximum uplift rate between 2 and 3 cm/yr.
Horizontal deformation is similar in magnitude, with a N/S extension rate across the caldera's center of about 3 cm/yr. These rates of deformation are comparable to those observed in 2002-2003, and well below the rates seen in the late 1990s.
(Source: USGS Aug 2012 update for Long Valley)
Previous news
A small swarm of earthquakes could be during 12-13 Aug. About 30 (very small mostly ...
read all
More on VolcanoDiscovery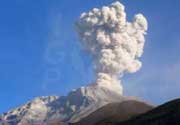 Ubinas activity updates
: The most frequently active volcano in Peru entered a new eruptive phase in 2014. Updates and news are regularly posted on this page.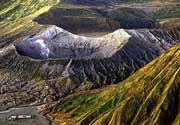 Bromo volcano photos
: Bromo is one of Indonesia's most visited volcanoes. It is the most active vent inside the huge Tengger caldera and erupts every few years.