Mabda volcano
Typical eruption style
: unspecified
Mabda volcano eruptions
: None during the past 10,000 years
Less than few million years ago (Pleistocene)
| | | | |
| --- | --- | --- | --- |
| Time | Mag. / Depth | Distance | Location |
Background:
The Mabda complex, also called Dubbi Alto, is composed of rhyolitic lava domes (Wiart and Oppenheimer, 2005). The north flank has been partially covered by lava flows from Dubbi volcano, but it's relationship to that edifice is unknown. Although the age is also unknown, it's location between two Holocene volcanoes makes a Pleistocene age likely. In addition, there are fresher-looking cones and lava flows 9-12 km down the SSE flank (also possibly related to Dubbi) and a 32 km2 lava field 20 km SE (also possibly associated with Nabro).
---
Source: Smithsonian / GVP volcano information
See also:
Sentinel hub
|
Landsat 8
More on VolcanoDiscovery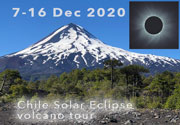 Solar Eclipse & volcano tour
: A total solar eclipse will occur on 14 Dec 2020 and pass over southern Chile and Argentina. Chile's most active volcano Villarrica is located exactly on the center line where the eclipse will be best to observe.
We offer you the unique chance to combine the eclipse with a tour to one the world's most beautiful volcanic areas - the Lake District in Chile.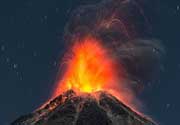 Volcano Special Tours
: We organize tours to particularly active volcanoes and during ongoing eruptions for extended observation time from various viewpoints. These trips, exclusively for very small groups, are often announced only at short notice and require fast travel and flexibility. Each trip is accompanied by a volcanologist from our team. Examples include: Kilauea (Hawai'i), Colima (Mexico), Krakatau and many others.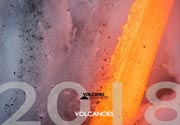 Volcano Calendar 2018
: We're proud to present our 2018 volcano calendar: 13 different and attractive images of volcanoes, volcanic landscapes and phenomena taken during volcano tours over the past few years.