Maly Payalpan volcano
Shield volcanoes 1802 m / 5,912 ft, Kamchatka, Russia, 55.82°N / 157.98°E
Nearby recent earthquakes (within 30km radius):
Earthquake list: past 7 days, magnitude -0.8 or higher
Updated: Wed, 28 Oct 09:57 UTC (GMT)
Filter by magnitude:
all
2.0+
3.0+
4.0+
5.0+
Earthquake list
Time
Mag. / Depth
Distance
Location
Map
Source
No recent earthquakes in our database
Earthquake statistics
Number of earthquakes vs time:
Past 24 hrs:
Past 30 days:
Past 90 days:
Magnitude distribution and energy released:
Past 24 hrs:
Past 7 days:
Past 30 days:
More on VolcanoDiscovery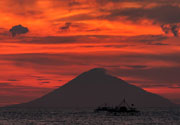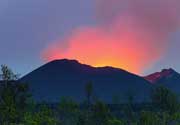 Nyamuragira volcano photos
: Africa's version of Mauna Loa, Nyamuragira (or Nyamulagira) is a massive basaltic shield volcano neighboring Nyiragongo. It is one of the most active volcanoes in the world and has voluminous eruptions every few years.