Mayon volcano (Luzon Island, Philippines) activity update: extrusion of viscous lava flow, warning of possible explosive eruption
Mon, 13 Oct 2014, 18:12
18:12 PM | BY: T
A viscous lava flow started to descend from the summit crater of the volcano on the southeast slope. On Sunday, it was approx. 350 m long and advancing slowly, with incandescence visible at night.
According to an interview with Philvolcs scientists, the present situation is similar to the days before a large explosion occurred in 1986. The currently slow extrusion could be the foreplay of a potentially dangerous and large explosive eruption. This scenario could occur if the lava flow is caused by new, gas-rich magma, which is now rising and currently pushing out an overlying column of older, degassed and viscous lava above it in the conduit.
According to press articles, more than 12,000 people have been evacuated from areas close to the volcano and a 6 km exclusion zone is in place. Other hazards include landslides and pyroclastic flows if parts of the lava flow collapse.
More on VolcanoDiscovery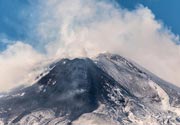 Etna trekking tour
: A tour entirely dedicated to Etna, the most active volcano in Europe. Spend 6 full days on Etna and get good chances to see eruptive activity.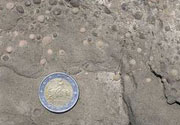 Small spherical balls of volcanic ash that form from a wet nucleus falling through a volcanic ash cloud.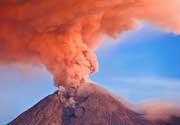 Merapi volcano photos
: One of the most active and most dangerous volcanoes of Indonesia: Merapi meaning "the one who makes fire", is a feared but also venerated holy mountain looming over the city of Yogyakarta, capital of Central Java.