Merbabu volcano
Updated: Jul 3, 2022 21:25 GMT -
Refresh
Stratovolcano 3145 m (10,318 ft)
Central Java (Indonesia), -7.45°S / 110.43°E
Current status: normal or dormant (1 out of 5)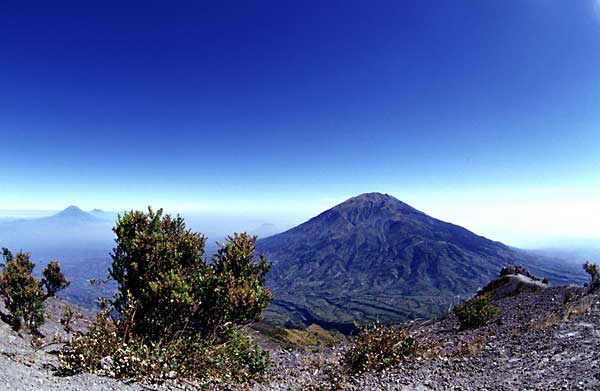 Merbabu volcano seen from the summit of Merapi
Merbabu in Central Java is located immediately N of Merapi volcano separated from the latter by a broad 1500 m high saddle. Less active than Merapi and largely forested, Merbabu is part of the regional NNW-SSE volcanic chain extending from Merapi to Ungaran volcano.
Typical eruption style:
Explosive and effusive.
Merbabu volcano eruptions:
Lastest nearby earthquakes:
No recent earthquakes
Background
The volcano is elongated in a NNW-SSE direction, parallel to a regional transverse fault perpendicular to the plate boundary. The fault defines a volcanic chain strechting from Merapi volcano in the S to Ungaran volcano in the N.
3 large U-shaped radial valleys NW, NE, and SE extend from the 3145-m-high summit of Merbabu and define 3 sectors. The most recent eruptions originated from a NNW-SSE fissure system that cuts across the summit and fed the large-volume Kopeng and Kajor lava flows on the northern and southern flanks. Moderate explosive eruptions have occurred from the summit crater of Merbabu in historical time.
(adapted from GVP)
Merbabu Photos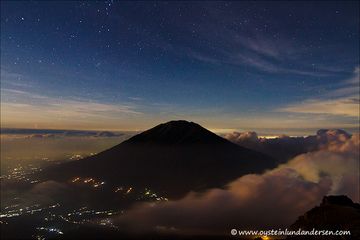 Merbabu Volcano, as seen from Merapi (27th Oct. 2012) (Photo: andersen_oystein)

See also: Sentinel hub | Landsat 8 | NASA FIRMS