Minami-Hiyoshi volcano
submarine volcano -30 m / -98 ft
Volcano Islands, Japan, 23.5°N / 141.94°E
Current status: normal or dormant (1 out of 5)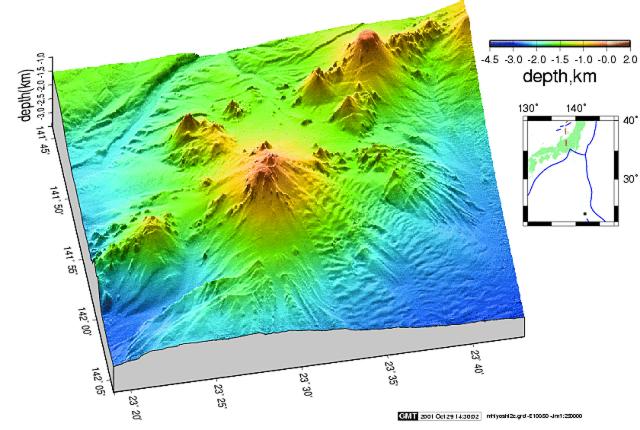 Minami-Hiyoshi lies near the SE end of a coalescing chain of youthful seamounts and is the only historically active vent. The morphologically youthful seamount Naka-Hiyoshi (upper right) lies to the NW and Ko-Hiyoshi seamount (left) to the SSE. Image courtesy of HOD Japan Coast Guard (http://www1.kaiho.mlit.go.jp/jhd-E).
Minami-Hiyoshi is a submarine volcano in Japan's chain of Volcano Islands, 1300 km south of Tokyo. Periodic water discolouration and water-spouting have been observed from the volcano since 1975, when detonations and an explosion were reported as well.
Typical eruption style
: submarine
Minami-Hiyoshi volcano eruptions
: 1996(?), 1992(?), 1978(?), 1976(?)-77, 1976(?), 1975
| | | |
| --- | --- | --- |
| Time | Mag. / Depth | Distance/Location |
Background
The trachyandesitic Minami-Hiyoshi lsubmarine volcano ies near the SE end of a coalescing chain of young seamounts, but is the only known historically active volcano of the chain. Its summit has been measured at various depths between 274 and 30 m. The morphologically youthful seamounts Kita-Hiyoshi and Naka-Hiyoshi lie to the NW, and Ko-Hiyoshi to the SE.



See also: Sentinel hub | Landsat 8