Michinmahuida volcano
Updated: Jun 2, 2023 12:09 GMT
-
stratovolcano 2404 m / 7,887 ft
southern Chile, -42.79°S / -72.44°W
Current status: normal or dormant (1 out of 5)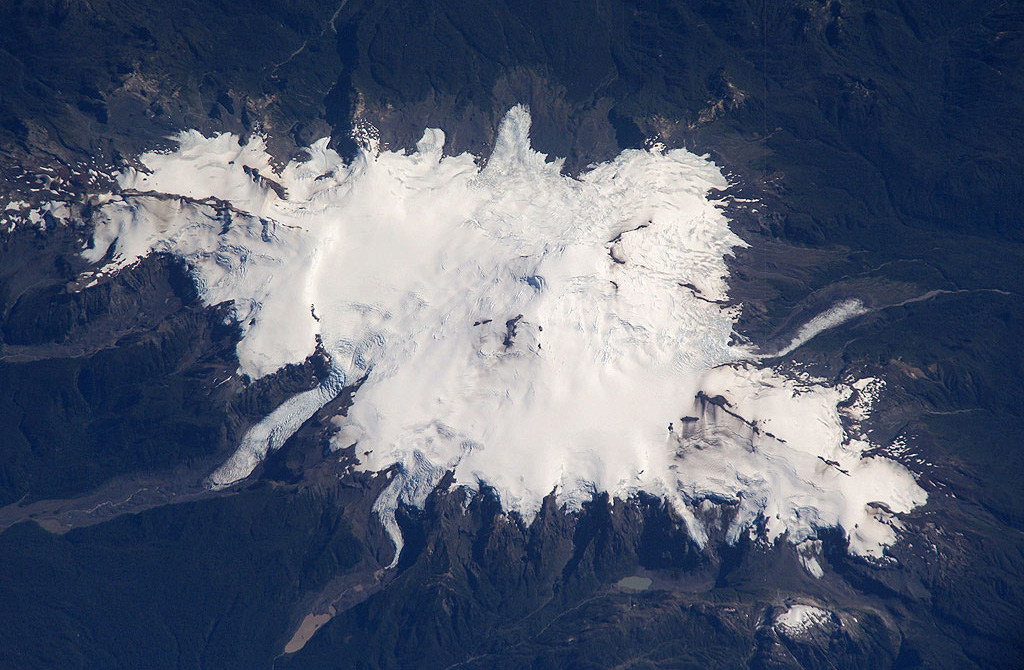 Glacier-covered Volcán Minchinmávida is elongated along a NE-SW direction. The volcano has a mostly obscured 3-km-wide caldera, and a youthful eruptive center is located on the ENE side of the complex. An eruption from Minchinmávida was reported in 1742. Darwin observed the volcano in activity in 1834 on his renowned voyage that took him to the Galápagos Islands. (NASA International Space Station image ISS006-E-42260, 2003, http://eol.jsc.nasa.gov/)
Volcán Michinmahuida (also written Minchinmávida) volcano is an active basaltic-to-andesitic stratovolcano in southern Chile, west of Lago Reñihue. It was observed and in activity by C. Darwin in 1834 during his historic journey to the Galapagos Islands.
The massive glacier-coverd volcano is elongated in a NE-SW direction and and has a saddle-shaped summit with an elongated 3-km-wide caldera. A young crater is located on the ENE side of the complex.
2 major explosive eruptions had occurred about 3000 and 6000 years ago and produced significant tephra deposits extending to the east. Activity in historic times consisted of small explosive eruptions. The last eruption was from February to March 1835, produced a lava flow from a flank crater as well as lahars that reached the coast at Punta Chana.

When neighboring Chaitén erupted after a century-long repose interval in 2008, it was first believed that Michinmahuida was having a new eruption, since Chaitén was poorly known at that time.
Typical eruption style:
explosive
Michinmahuida volcano eruptions:
1835, 1834, 1742, 1650 ± 50 years (?), 880 BC ± 1000 years, 3790 BC ± 500 years
Latest nearby earthquakes
No recent earthquakes





1835 eruption
Minchinmavida, along with Cerro Yanteles volcano further south, erupted in 1835 within a day of a magnitude 8.1 earthquake between 600 and 800 km away (Darwin, 1840).

Sources:
- Michael Manga and Emily Brodsky (2006) "Seismic Triggering of Eruptions in the Far Field: Volcanoes and Geysers", Annu. Rev. Earth Planet. Sci 34: pp 263–91
- Darwin C. (1840) "On the connexion of certain volcanic phenomena in South America; and on the formation of mountain chains and volcanoes, as the effect of the same power by which continents are elevated." Trans. Geol. Soc. Lond. 5: pp 601–31


See also: Sentinel hub | Landsat 8 | NASA FIRMS