Moti volcano
Updated: Aug 9, 2022 01:25 GMT -
Refresh
stratovolcano 950 m / 3,117 ft
Halmahera (Indonesia), 0.45°N / 127.4°E
Current status: normal or dormant (1 out of 5)
Moti (also spelled Motir) volcano forms a 5 km wide island surrounded by coral reefs north of Makian volcano. It is part of the N-S aligned chain of volcanoes off the W coast of Halmahera Island, Indonesia.
Typical eruption style:
Explosive
Moti volcano eruptions:
none in historic times
Lastest nearby earthquakes:
No recent earthquakes
Background
Moti has a truncated conical shape with a crater on the SSW side, and a lava flow is visible on the NW base. The volcano has no confirmed historic activity, although there are reports about a possible small eruption in 1774 or shortly before, although it is likely that this came from its more active neighbor Gamalana.
Moti Photos
View of the lava lake at night, partly obscured by fumes. It's impossible to photograph the real sight - raising emotions, pictures and dreams of the birth of earth. (Ph...
The "successful plume" has the right motion and geometry to produce a vortex that detaches and keeps stable, despite the strong wind that disperses the other steam plumes...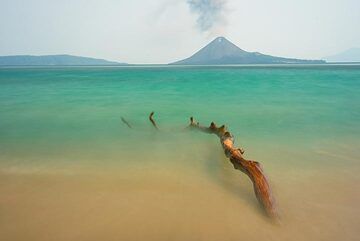 Another experiment with a neutral density filter to blur the wave motion in daylight... (Photo: Tom Pfeiffer)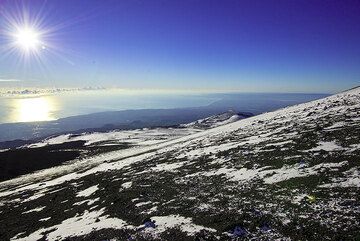 The peaceful atmosphere of a glorious sunny morning ends a night filled with incredible emotions given by some of earth's most powerful displays. (Photo: Tom Pfeiffer)

See also: Sentinel hub | Landsat 8 | NASA FIRMS