Mount Baker volcano
stratovolcano 3285 m / 10,777 ft, Washington, Canada and USA (mainland), 48.78°N / -121.81°W
Nearby recent earthquakes (within 30km radius):
Earthquake list: past 7 days, magnitude -0.8 or higher (1 earthquake)
Updated: Sat, 24 Oct 07:01 UTC (GMT)
Filter by magnitude:
all
2.0+
3.0+
4.0+
5.0+
Depth and magnitude of quakes versus time plot
Earthquake list
Estimated combined seismic energy released: 4 x 10
6
joules (1.11 kilowatt hours) [
learn more
]
Earthquake statistics
Number of earthquakes vs time:
Past 24 hrs:
Past 30 days:
Past 90 days:
Magnitude distribution and energy released:
Past 24 hrs:
Past 7 days:
Past 30 days:
Features around Mt Baker volcano
Black Buttes:
An eroded rest of a former stratovolcano 3 km west of Mt. Baker.


Dorr Fumaroles:
A field of fumaroles NE of the summit of Mt Baker.


Kulshan Caldera:
A large caldera NE of the volcano formed by collapse of the magma chamber after a large ancient eruption.


Mazama Ash:
Ash layers on the south flank of Mt Baker, probably deposited during an explosive eruption 6,000 years ago.


Schriebers Meadow Cinder Cone:
A cinder cone which formed about 9,800 years ago, 100 m high and 750 m wide. A lava flow 11 km long was erupted from the same vent.
Sherman Crater:
A lateral crater 800 south of the summit. It is partially filled with ice. Snow avalanches have descended down Boulder Glacier at least 6 times since 1958.
More on VolcanoDiscovery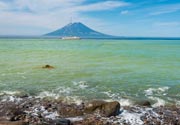 Kuril Islands expedition
: The Kuril islands form one of the most active volcanic chains in the world, but are very difficult to access. From time to time, we organize expeditions to some of these remote and still unspoiled islands. Adventure guaranteed!
Latest quakes in Greece
: Greece has a lot of earthquake activity, but most of them occur around the margin of the Aegean microplate. The Cycladic islands are located in its center and therefore seismically comparably quiet.
Earthquake monitor
: Lists and maps of earthquakes in the world in near real time. Country lists, earthquake archive, and I-felt-it reports.