Nishino-shima volcano news & activity updates:
Merapi volcano (Central Java, Indonesia), update: ash over Yogyakarta, pyroclastic flows and lava dome growth
Sat, 30 Oct 2010, 10:22
10:22 AM |
The strong eruptions last night showered Ygoya and Sleman cities with ash. Andy reports directly from the observatory Babadan, + 1279 m on the western slope, still mostly free of ash: "I witnessed 2 times pyroclastic flows since at 05.00 through Senowo river. Again last night 29 oct, around at 24.00 there was a massive glowing ash column rising up until 1,5 km, and all people at 5 at the distance 10 km from the summit must evacuated.
Merapi seems back to its typical style of building a lava dome, which is now growing from the old 2006 dome, and tends to grow to the south east and to the south west."
More on VolcanoDiscovery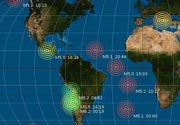 Monthy earthquake reports
: For each month since July 2012, we publish a summary of quake activity world-wide: find the list of largest quake, a map showing all significant quakes as well as detailed statistics on seismic activity during this time.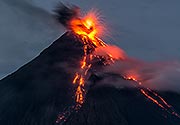 Mayon volcano photos
: Mayon on Luzon Island, towering above Legazpi city is famous for being one of the most perfectly symmetrical stratovolcanoes in the world. It is also one of the most active and most dangerous volcanoes (not only) in the Philippines.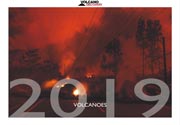 Volcano Calendar 2019
: We're proud to present our 2019 volcano calendar: 13 different and attractive images of volcanoes, volcanic landscapes and phenomena taken during volcano tours over the past few years.