Nishino-shima volcano news & activity updates:
Nishino-Shima volcano (Izu Islands, Japan): lava flows continue to enlarge merged island
Mon, 6 Jan 2014, 13:37
13:37 PM | BY: T
Comparison of Nishino-shima between 28 Dec and 6 Jan (Japanese Coast Guard)
The new island that had "touched" Nishino-Shima has continued to grow and the two islands form now a coherent single one, with a interesting "butterfly" shape. This might of course change quickly again as well. There are now no traces left of the beach and the little colored lake that existed a week ago when the two islands started to merge.
The image shows a comparison of two aerial photographs taken on 28 Dec and 6 Jan by the Japanese Coast Guard.
Most of the island's growth during the past days was by lava flows that formed and enlarged the lava delta to the SW, the currently lowest-lying area (which is the most natural place for new lava flows to head to). It can also be seen that the two vents first observed on 26 Dec are still active. At the moment, it is unclear whether strombolian activity is still occurring, but this seems likely.
---
Links / Sources:
Previous news
More on VolcanoDiscovery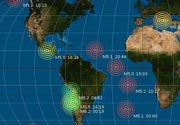 Monthy earthquake reports
: For each month since July 2012, we publish a summary of quake activity world-wide: find the list of largest quake, a map showing all significant quakes as well as detailed statistics on seismic activity during this time.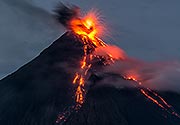 Mayon volcano photos
: Mayon on Luzon Island, towering above Legazpi city is famous for being one of the most perfectly symmetrical stratovolcanoes in the world. It is also one of the most active and most dangerous volcanoes (not only) in the Philippines.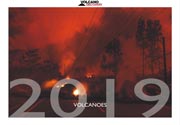 Volcano Calendar 2019
: We're proud to present our 2019 volcano calendar: 13 different and attractive images of volcanoes, volcanic landscapes and phenomena taken during volcano tours over the past few years.