Nishino-shima volcano news & activity updates:
Nishino-Shima volcano (Izu Islands, Japan): island continues to grow
Wed, 5 Feb 2014, 11:12
11:12 AM | BY: TOMPFEIFFER
Nishino-Shima island on 3 Feb. For comparison, the previous shorelines on 20 Jan (yellow) and 21 Nov past year (white). (Image: Japanese Coast Guard)
New images from an overflight on 3 February confirm that the activity on the former new island continues steadily. Over the past weeks, the vent has been feeding several active lava flow fronts, that enlarged the land covered by new lava in more or less all directions.
In particular, there are two active flows relatively close to the vent which have been heading out towards the southeast and formed a small almost closed bay with green-orange discolored water inside. The water color is a result of dissolved volcanic gasses and lava fragments in suspension.
In addition to the ongoing lava effusion, strombolian explosions occur from the main vent as well, which has built a small perfectly circular cone.
Previous news
More on VolcanoDiscovery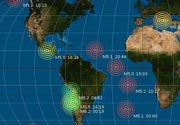 Monthy earthquake reports
: For each month since July 2012, we publish a summary of quake activity world-wide: find the list of largest quake, a map showing all significant quakes as well as detailed statistics on seismic activity during this time.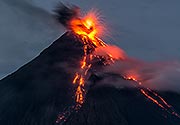 Mayon volcano photos
: Mayon on Luzon Island, towering above Legazpi city is famous for being one of the most perfectly symmetrical stratovolcanoes in the world. It is also one of the most active and most dangerous volcanoes (not only) in the Philippines.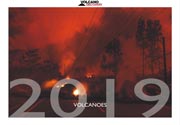 Volcano Calendar 2019
: We're proud to present our 2019 volcano calendar: 13 different and attractive images of volcanoes, volcanic landscapes and phenomena taken during volcano tours over the past few years.