Nishino-shima volcano news & activity updates:
Nishino-shima volcano (Japan): eruption still continuing, island grows lava delta on the SE side
Tue, 23 Jun 2015, 13:51
13:51 PM | BY: T
Landsat 8 infrared image of Nishinoshima on 21 June 2015 showing the active areas (vent and lava delta)
View of the growing lava delta on the SE shore
Thermal image showing strombolian activity at the central vent
Map of the island with contours from the past months (dotted black line show the now completely buried old island)
The eruption on the island continues with apparently relatively steady lava effusion that feeds active flows reaching and enlarging the SE corner of the island, which has now 2.7 square kilometer of surface.
Mild strombolian activity and strong degassing occurs at the main vent, where a nice cinder cone has grown. The lava mostly flows through tubes, where it is hidden, to reach the active lava delta on the SE tip of the island. A smaller part seems also to feed/inflate inland surface lava flows in an area NE of the cone.
---
Links / Sources:
Previous news
More on VolcanoDiscovery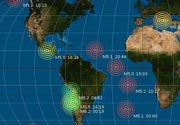 Monthy earthquake reports
: For each month since July 2012, we publish a summary of quake activity world-wide: find the list of largest quake, a map showing all significant quakes as well as detailed statistics on seismic activity during this time.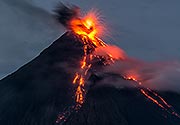 Mayon volcano photos
: Mayon on Luzon Island, towering above Legazpi city is famous for being one of the most perfectly symmetrical stratovolcanoes in the world. It is also one of the most active and most dangerous volcanoes (not only) in the Philippines.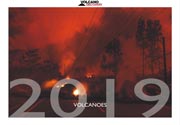 Volcano Calendar 2019
: We're proud to present our 2019 volcano calendar: 13 different and attractive images of volcanoes, volcanic landscapes and phenomena taken during volcano tours over the past few years.