Bardarbunga vulkaan books:
Stratovulkaan approx. 2000 m / ca. 6,560 ft
Central Iceland, 64.63°N / -17.53°W
Bardarbunga webcams / Live-gegevens
Meer op VolcanoDiscovery
If you find the website useful and would like to support us and help keep it alive and improve it, please consider
making a small donation
.
Thank you!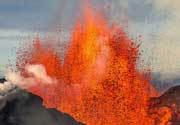 Earthquake monitor
: Lists and maps of earthquakes in the world in near real time. Country lists, earthquake archive, and I-felt-it reports.