Bárdarbunga volcano news & activity updates
Bardarbunga volcano (Iceland): moderate earthquake last night
di, 21 apr 2020, 08:15
08:15 AM | DOOR: MARTIN
Depth vs time of recent quakes under Bardarbunga (image: IMO)
On
20 April at 03:54 local time
an earthquake with magnitude
M 4.8
were detected by the seismic network in the Bardarbunga caldera, few small aftershocks followed but no volcanic tremor has been detected.
On January 5th 2020 earthquakes of similar magnitude were detected.
Source: Icelandic Met Office volcano activity update 21 April 2020
Vorig nieuws
Meer op VolcanoDiscovery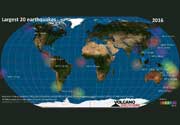 Top 20 quakes in 2016
: Several magnitude 7 quakes occurred in 2016 (but none above M8): Papua New Guinea, NZ, Ecuador, Solomon Islands, Sumatra, Chile, Alaska and others - nearly all major earthquakes were located near active subduction zones.
See the top 20 list of largest quakes in 2016 with this map.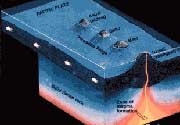 Intraplate volcanism
: A third tectonic setting where volcanism occurs is believed to be the result of mantle plumes and not directly related to plate boundaries. So called hot spot volcanoes fall into this category.
Do you know which is the biggest volcano in the world?