Batu Tara volcano news:
Thu, 25 Aug 2016, 16:02
Steam plume from Batu Tara volcano today seen on Suomi NPP satellite (NASA)
The volcano's activity seems to have been very low recently although there are no available direct observations.
Read more...
Lees alle
Meer op VolcanoDiscovery
If you find the website useful and would like to support us and help keep it alive and improve it, please consider
making a small donation
.
Thank you!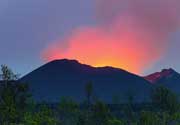 Nyamuragira volcano photos
: Africa's version of Mauna Loa, Nyamuragira (or Nyamulagira) is a massive basaltic shield volcano neighboring Nyiragongo. It is one of the most active volcanoes in the world and has voluminous eruptions every few years.
Krakatau volcano photos
: Hundreds of photos from active Krakatau volcano in the Sunda Strait, Indonesia. Most of them taken during our various expeditions to this fascinating volcano.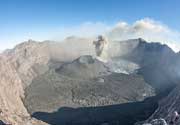 Raung volcano photos
: One of the largest and most active volcanoes in East Java, rarely-visited and relatively unknown Raung became (in)famous during its recent eruption in 2015 when its frequent ash plumes forced the repeated closure of Bali's airport.