Concepción vulkaan uitbarstingen
stratovulkaan 1700 m / 5,577 ft
Nicaragua, 11.54°N / -85.62°W
Eruption lijst: 2012, 2009-11, 2008, 2007, 2006, 2005, 1999, 1988, 1985-86, 1984-85, 1983, 1982, 1978, 1977, 1973-74, 1963, 1962, 1961, 1957, 1951-55, 1948-50, 1944-45, 1935, 1929, 1928, 1921-26, 1918-19, 1907-10, 1902, 1891, 1884-86, 1883, 1800 ± 50 years, 770 BC ± 50 years (radiocarbon)
2007-2009 eruptions
Eruptions at Concepción during 2007-09 consisted of intermittent small ash explosions, often many months apart. Eruptions occurred on 9 February, 8 April, and 22 April 2007, during June-July 2007, November-December 2007, July 2008, and December 2009.
2006 eruption
A series of small ash eruptions occurred in September 2006.
2005 eruption
An ash explosion occurred on 28 July and ash fell on Moyagalpa town 8 km W of the summit, as well as at San Jorge, Buenos Aires, Potosí, and Belén in the western sector of the country.
1999 eruption
An eruption occurred on 27 December, producing a small 300 m tall ash column. The next day, ash fall was observed in San Jorge 25 km SW of Concepción.
During the next 5 years, no other eruptions seem to have occurred.
1993 crater morphology
On 10 January 1993, geologists climbed Concepción in unusually clear conditions, allowing a survey of the summit crater:
"The crater is almost circular, 300 m in diameter and about 250 m deep. The upper part has a funnel shape, which descends into a pit crater. The N and E sides have a break in slope half way down; the SW side is a vertical cliff. This cliff is the head scarp of a landslide that fell into the crater in December 1992, forming a 100-m-wide scree slope infilling part of the pit crater. A 30-m-wide elliptical area plastered with yellow sulfur and containing two small sulfur mounds is at the lowest point."
(
Smithsonian / GVP monthly reporty
)
1983-86 activity
A strong ash eruption began on 15 March 1983 and continued until 24 March, but caused no damage.
Small ash eruptions were observed in December 1984. A stronger explosion occurred on 2 January 1985, damaging tobacco and sesame crops and causing ash fall in the towns of Esquipulas, Los Angeles, and Moyogalpa.
More ash eruptions occurred between 4 February and 8 April 1986. They killed vegetation was killed over a distance of 3 km on the western side of the volcano. Some people living near the village of San José 8 km SW of the summit evacuated their houses.
1978 eruption
Strong ash eruptions occurred in late March 1978. Ashfall made life "intolerable" for persons living near the volcano, a newspaper wrote. Ash fell as far as Belén, on the Pacific Coast 28 km SW of Concepción.
1977 eruption
A strong eruptino occurred on 4 April 1977. The eruption lasted 1-2 minutes and lit the sky "like daylight". Earthquakes were felt at about 1.5 hours and at 2 minutes prior to the eruption and about 9 hours afterwards. During the next several weeks, frequent small ash eruptions, separated by periods of gas emission, caused light ashfalls on Isla de Ometepe.
16 separate explosions occurred between 29 April and 1 May. Some produced incandescent ash rising more than 1500 m above the summit. Ash fell intermittently at Rivas, 25 km SW of Concepción.
A few minor ash clouds were reported on 3 May.
(adapted from: Smithsonian/GVP monthly reports)
Eruptions prior to 1977
The historic activity up to 1977 was characterised by mild Strombolian or small Plinian eruptions of basalt to silicic andesite about every 10 years and silicic andesite lava flows about every 20 years. This activity has built most of the visible part of the cone. Since 1977, only minor ash eruptions and degassing episodes have been recorded. (from: Borgia & van Wyk de Vries, 2003)
Meer op VolcanoDiscovery:
If you find the website useful and would like to support us and help keep it alive and improve it, please consider
making a small donation
.
Thank you!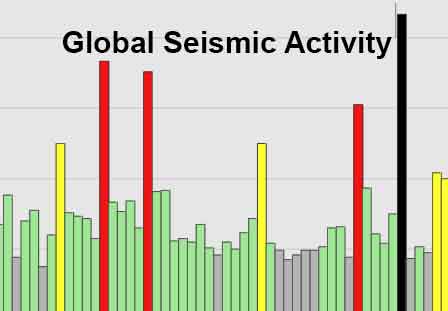 Worldwide earthquake activity level
: What is the level of global earthquake activity today compared to the past? Find out with our graph showing the current and past Global Seismic Activity Level indicator!
The term for all fine-grained volcanic products fragmented during explosive eruptions.