News & erupion updates from Dieng volcano:
Dieng volcano (Central Java): alert level rises to 3 (out of 4)
wo, 1 jun 2011, 14:35
14:35 PM |
Timbang crater at Simbar village, Dieng volcano complex, is now on high alert status level 3. Inhabitants are being evacuated from a zone 1 km around the crater.
The most feared scenario is a sudden eruption of large amounts of CO2 and H2S, such as has happened in 1979 from the nearby crater Sinila which killed around 160 people in that event.
Vorig nieuws
The seismicity at Dieng Volcanic Complex has increased. On 22 May new white steam plumes were observed at the Timbang cone and CO2 levels increased as well. CVGHM raised the Alert Level to 2 (on a scale of 1-4). ...
Lees alle
Meer op VolcanoDiscovery
Photos from Vanuatu
: A fascinating archipelago with very active volcanoes, tropical islands and very friendly and hospital people who still live their original Melanesian culture. Browse through our vast collection of photos.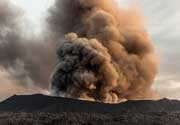 Dukono volcano photos
: Dukono on Halmahera in Indonesia has been in permanent activity for years, often producing ash plumes that drift around the northern part of the island and have become normality.