Dukono volcano news & eruption updates
Dukono volcano Volcanic Ash Advisory: CONTINUOUS VA EMISSIONS TO FL070 EXT E OBS VA DTG: 18/1745Z
Monday Dec 18, 2017 17:45 PM |
Satellite image of Dukono volcano on 18 Dec 2017
Volcanic Ash Advisory Center Darwin (VAAC) issued the following report:
FVAU0295 at 17:42 UTC, 18/12/17 from ADRM
VA ADVISORY
DTG: 20171218/1745Z
VAAC: DARWIN
VOLCANO: DUKONO 268010
PSN: N0141 E12753
AREA: INDONESIA
SUMMIT ELEV: 1335M
ADVISORY NR: 2017/1323
INFO SOURCE: HIMAWARI-8
AVIATION COLOUR CODE: ORANGE
ERUPTION DETAILS: CONTINUOUS VA EMISSIONS TO FL070 EXT E
OBS VA DTG: 18/1745Z
OBS VA CLD: SFC/FL070 N0144 E12752 - N0140 E12751 - N0121
E12846 - N0153 E12849 MOV E 20KT
FCST VA CLD +6 HR: 18/2345Z SFC/FL070 N0144 E12752 - N0140
E12751 - N0107 E12901 - N0148 E12909
FCST VA CLD +12 HR: 19/0545Z SFC/FL070 N0143 E12752 - N0140
E12751 - N0107 E12900 - N0148 E12907
FCST VA CLD +18 HR: 19/1145Z SFC/FL070 N0144 E12752 - N0140
E12751 - N0107 E12900 - N0148 E12907
RMK: VA IS UNIDENTIFIABLE ON SAT IMAGERY DUE TO MET CLOUD;
HOWEVER, VA STILL EXPECTED IN AREA. HEIGHT AND MOVEMENT
BASED ON HIMAWARI-8 IMAGERY, MENADO 18/1200Z SOUNDING AND
MODEL GUIDANCE.
NXT ADVISORY: NO LATER THAN 20171218/2345Z
Vorig nieuws
Meer op VolcanoDiscovery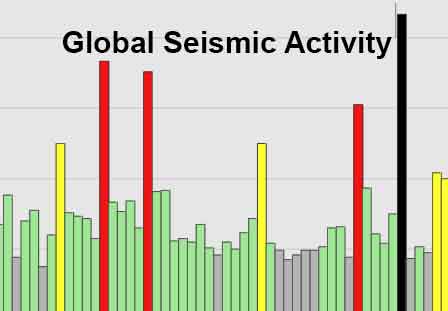 Worldwide earthquake activity level
: What is the level of global earthquake activity today compared to the past? Find out with our graph showing the current and past Global Seismic Activity Level indicator!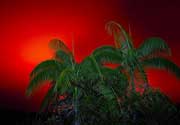 Ambrym+Yasur volcanoes in Vanuatu
: An adventurous expedition to some of the most spectacular and active volcanoes in the world! Our volcano expedition to Vanuatu lets you spend 1 week on Ambrym with its multiple active lava lakes and 4 days on Yasur, famous for its spectacular fireworks. Guided by professional volcanologist, small groups (May-Sep).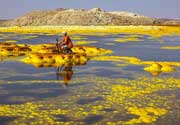 Types of tours
: We offer a broad variety of tours to volcanic areas: volcano expeditions and specials, discovery tours with hiking, photography, nature and culture, pilot tours and private custom tours.