Dukono volcano news & eruption updates
Dukono Volcano Volcanic Ash Advisory: CONTINUOUS VA TO FL070 LAST OBS 03/0230Z EXT E to 7000 ft (2100 m)
Wed, 3 Jul 2019, 10:45
10:45 AM | DOOR: VN
Satellite image of Dukono volcano on 3 Jul 2019
Explosive activity continues. Volcanic Ash Advisory Center (VAAC) Darwin warned about a volcanic ash plume that rose up to estimated 7000 ft (2100 m) altitude or flight level 070 and is moving at 5 kts in E direction.
The full report is as follows:
FVAU01 at 10:30 UTC, 03/07/19 from ADRM
VA ADVISORY
DTG: 20190703/1030Z
VAAC: DARWIN
VOLCANO: DUKONO 268010
PSN: N0141 E12753
AREA: INDONESIA
SUMMIT ELEV: 1335M
ADVISORY NR: 2019/648
INFO SOURCE: HIMAWARI-8, VONA
AVIATION COLOUR CODE: ORANGE
ERUPTION DETAILS: CONTINUOUS VA TO FL070 LAST OBS 03/0230Z
EXT E
OBS VA DTG: 03/1030Z
OBS VA CLD: SFC/FL070 N0142 E12751 - N0139 E12751 - N0136
E12838 - N0205 E12831 MOV E 5KT
FCST VA CLD +6 HR: 03/1630Z SFC/FL070 N0142 E12750 - N0206
E12831 - N0141 E12840 - N0138 E12752
FCST VA CLD +12 HR: 03/2230Z SFC/FL070 N0139 E12752 - N0146
E12840 - N0210 E12829 - N0142 E12750
FCST VA CLD +18 HR: 04/0430Z SFC/FL070 N0139 E12752 - N0141
E12750 - N0214 E12824 - N0153 E12839
RMK: VA CURRENTLY NOT DISCERNIBLE DUE TO OBSCURATION BY MET
CLOUD AND DARKNESS. VA HEIGHT AND MOVEMENT BASED ON
HIMAWARI-8 IMAGERY, MENADO 03/0000Z SOUNDING, MODEL GUIDANCE
AND GROUND REPORT AT 03/0758Z.
NXT ADVISORY: NO LATER THAN 20190703/1630Z
Vorig nieuws
Meer op VolcanoDiscovery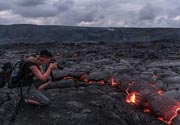 1-3 day excursions
: If you're interested in volcanoes, there are a number of excursions you should not miss if you're in the area: hike to the craters of Stromboli volcano, climb Etna volcano, get to know the unique volcanic history of Santorini - some examples of shorter (1-3 days) tours and excursions we offer.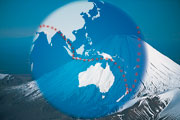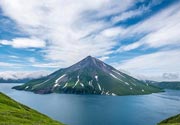 Photos from the Kuril Islands
: Some rarely visited volcanoes, unspoiled nature, lots of WWII remnants - browse through several galleries from our tours to the Kuril Islands.