Dukono volcano news & eruption updates
Dukono Volcano Volcanic Ash Advisory: VA TO FL060 LAST REPORTED 19/2126Z EST VA DTG: 19/2330Z to 6000 ft (1800 m)
Fri, 19 Jul 2019, 23:30
23:30 PM | DOOR: VN
Explosive activity continues. Volcanic Ash Advisory Center (VAAC) Darwin warned about a volcanic ash plume that rose up to estimated 6000 ft (1800 m) altitude or flight level 060 and is moving at 10 kts in NW direction.
The full report is as follows:
FVAU01 at 23:27 UTC, 19/07/19 from ADRM
VA ADVISORY
DTG: 20190719/2330Z
VAAC: DARWIN
VOLCANO: DUKONO 268010
PSN: N0141 E12753
AREA: INDONESIA
SUMMIT ELEV: 1335M
ADVISORY NR: 2019/711
INFO SOURCE: HIMAWARI-8, CVGHM
AVIATION COLOUR CODE: ORANGE
ERUPTION DETAILS: VA TO FL060 LAST REPORTED 19/2126Z
EST VA DTG: 19/2330Z
EST VA CLD: SFC/FL060 N0141 E12755 - N0211 E12752 - N0209
E12730 - N0151 E12721 - N0139 E12753 MOV NW 10KT
FCST VA CLD +6 HR: 20/0530Z SFC/FL060 N0139 E12752 - N0159
E12724 - N0214 E12739 - N0212 E12757 - N0141 E12755
FCST VA CLD +12 HR: 20/1130Z SFC/FL060 N0140 E12751 - N0140
E12756 - N0206 E12808 - N0211 E12752 - N0204 E12736
FCST VA CLD +18 HR: 20/1730Z SFC/FL060 N0140 E12755 - N0140
E12751 - N0204 E12737 - N0211 E12752 - N0204 E12809
RMK: VA NOT IDENTIFIABLE ON SAT IMG DUE TO OBSCURATON BY MET
CLOUD, HOWEVER VA EXPECTED IN AREA. LAST OBS ON SAT AT
19/0040Z. GRND OBSERVER REPORTS ERUPTION CONTINUING AT
19/2126Z. VA HEIGHT AND FCST BASED ON HIMAWARI-8 IMAGERY AND
MODEL GUIDANCE.
NXT ADVISORY: NO LATER THAN 20190720/0530Z
Vorig nieuws
Meer op VolcanoDiscovery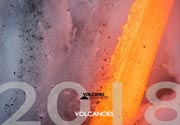 Volcano Calendar 2018
: We're proud to present our 2018 volcano calendar: 13 different and attractive images of volcanoes, volcanic landscapes and phenomena taken during volcano tours over the past few years.