Ebeko volcano news & activity updates
Ebeko volcano Volcanic Ash Advisory: ERUPTION AT 20181119/2220Z FL100 EXTD NE REPORTED OBS VA DTG: 19/2220Z
Monday Nov 19, 2018 22:45 PM |
Satellite image of Ebeko volcano on 19 Nov 2018
Volcanic Ash Advisory Center Tokyo (VAAC) issued the following report:
FVFE01 at 22:40 UTC, 19/11/18 from RJTD
VA ADVISORY
DTG: 20181119/2240Z
VAAC: TOKYO
VOLCANO: EBEKO 290380
PSN: N5041 E15601
AREA: KURIL ISLANDS
SUMMIT ELEV: 1103M
ADVISORY NR: 2018/470
INFO SOURCE: HIMAWARI-8 KVERT KBGS
AVIATION COLOUR CODE: NIL
ERUPTION DETAILS: ERUPTION AT 20181119/2220Z FL100 EXTD NE REPORTED
OBS VA DTG: 19/2220Z
OBS VA CLD: VA NOT IDENTIFIABLE FM SATELLITE DATA WIND FL100 250/26KT
FCST VA CLD +6 HR: NOT AVBL
FCST VA CLD +12 HR: NOT AVBL
FCST VA CLD +18 HR: NOT AVBL
RMK: WE WILL ISSUE FURTHER ADVISORY IF VA IS DETECTED IN SATELLITE
IMAGERY.
NXT ADVISORY: NO FURTHER ADVISORIES=
Vorig nieuws
Meer op VolcanoDiscovery:
If you find the website useful and would like to support us and help keep it alive and improve it, please consider
making a small donation
.
Thank you!
Watch live volcanoes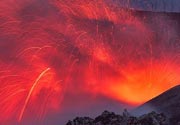 17 days volcano trekking
: This is one of our most exciting volcano tours! Halmahera, North Sulawesi and the Sangihe Islands are not only very scenic and interesting as well as nearly unspoiled by tourism, but also home to some of the country's most active (and often erupting) volcanoes, inclduing Dukono, Ibu, Lokon, Soputan and Karangetang.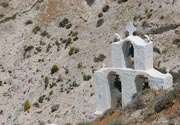 Private geology tour on Santorini
: We offer you private geology tours to get to know the extraordinary geology and natural history of the island, but also aspects of the deep connection with its cultural history and archaeology.