Hengill volcano (Iceland) news & updates:
Hengill volcano (Iceland) activity update: small earthquake swarms under Hengill volcano caused by pumping of water
za, 25 feb 2012, 11:05
11:05 AM | DOOR: T
Small earthquake swarms occurred at Hengill volcano on 24 and 25 Feb 2012. The seismic activity is thought to be related to the hydrothermal power plane Orkuveita Reykjavíkur which continues to pump down water in this area.
Vorig nieuws
A small earthquake swarm started in Hengill volcano on 17 Jan 2012 in the area of the Orkuveita Reykjavíkur hydrothermal plant that has been pumping down cold water into the ground. So far the largest earthquake is just M2.0 and at depth of around 5 km.
Lees alle
Meer op VolcanoDiscovery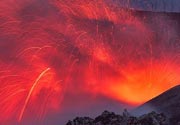 17 days volcano trekking
: This is one of our most exciting volcano tours! Halmahera, North Sulawesi and the Sangihe Islands are not only very scenic and interesting as well as nearly unspoiled by tourism, but also home to some of the country's most active (and often erupting) volcanoes, inclduing Dukono, Ibu, Lokon, Soputan and Karangetang.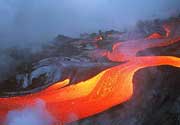 Kilauea volcano photos
: The most active volcano in the world with a record long lasting eruption since 1983: images of lava flows, lava lakes, explosions, lava meeting the ocean, aerials and more.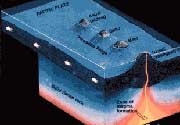 Intraplate volcanism
: A third tectonic setting where volcanism occurs is believed to be the result of mantle plumes and not directly related to plate boundaries. So called hot spot volcanoes fall into this category.