Ibu volcano news
Ibu Volcano Volcanic Ash Advisory: MULTIPLE DISCRETE VA EMISSIONS TO FL070 MOV W to 7000 ft (2100 m)
Thursday May 30, 2019 22:30 PM | DOOR: VN
Satellite image of Ibu volcano on 30 May 2019
Explosive activity continues. Volcanic Ash Advisory Center (VAAC) Darwin warned about a volcanic ash plume that rose up to estimated 7000 ft (2100 m) altitude or flight level 070 .
The full report is as follows:
FVAU02 at 22:26 UTC, 30/05/19 from ADRM
VA ADVISORY
DTG: 20190530/2230Z
VAAC: DARWIN
VOLCANO: IBU 268030
PSN: N0129 E12738
AREA: INDONESIA
SUMMIT ELEV: 1325M
ADVISORY NR: 2019/48
INFO SOURCE: HIMAWARI-8
AVIATION COLOUR CODE: ORANGE
ERUPTION DETAILS: MULTIPLE DISCRETE VA EMISSIONS TO FL070
MOV W
OBS VA DTG: 30/2230Z
OBS VA CLD: SFC/FL070 N0128 E12740 - N0123 E12710 - N0138
E12709 - N0131 E12741 MOV W 10KT
FCST VA CLD +6 HR: 31/0430Z NO VA EXP
FCST VA CLD +12 HR: 31/1030Z NO VA EXP
FCST VA CLD +18 HR: 31/1630Z NO VA EXP
RMK: MINOR DISCRETE VA EMISSIONS DISCERNIBLE ON LATEST
SATELLITE IMAGERY EXTENDING WEST OF SUMMIT. VA EXPECTED TO
DISSIPATE WITHIN 6 HOURS. HEIGHT AND FORECAST BASED ON
HIMAWARI-8 30/2210Z IMAGERY AND MODEL GUIDANCE.
NXT ADVISORY: NO LATER THAN 20190531/0430Z
Vorig nieuws
Meer op VolcanoDiscovery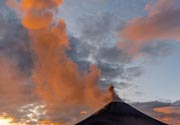 Kamchatka photos
: A growing list of photo galleries taking during our expeditions in this fantastic part of the world, full of volcanoes, unspoiled nature and colors.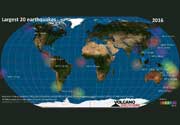 Top 20 quakes in 2016
: Several magnitude 7 quakes occurred in 2016 (but none above M8): Papua New Guinea, NZ, Ecuador, Solomon Islands, Sumatra, Chile, Alaska and others - nearly all major earthquakes were located near active subduction zones.
See the top 20 list of largest quakes in 2016 with this map.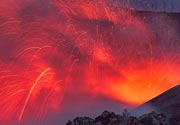 Volcanoes & Spices
: This 17-days adventurous expedition is one of our most exciting volcano tours! Visit Halmahera, North Sulawesi and the Sangihe Islands with some of Indonesia's most active volcanoes, including Dukono, Ibu, Lokon, Soputan and Karangetang.