Kanaga volcano news & activity updates
wo, 7 mrt 2012, 07:22
After no further signs of restlessness had been detected at Kanaga during the past week, AVO lowered the alert level back to normal (green).
Tue, 28 Feb 2012, 11:05
Mon, 20 Feb 2012, 00:49
De afstandsbediening Kanaga stratovulkaan in de Aleoeten zou zijn begonnen met uitbarsten, de Alaska Volcano Observatory (AVO) rapporten.
Read more...
Lees alle
Meer op VolcanoDiscovery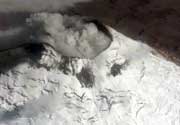 How to watch volcanoes? Which volcano to choose? Some guidelines.