Volcano news: Karymsky
Karymsky Volcano Volcanic Ash Advisory: VA EMISSIONS CONTINUING OBS VA DTG: 21/1120Z to 12000 ft (3700 m)
Tuesday May 21, 2019 12:15 PM | DOOR: VN
Explosive activity continues. Volcanic Ash Advisory Center (VAAC) Tokyo warned about a volcanic ash plume that rose up to estimated 12000 ft (3700 m) altitude or flight level 120 and is moving at 15 kts in SE direction.
The full report is as follows:
FVFE01 at 12:00 UTC, 21/05/19 from RJTD
VA ADVISORY
DTG: 20190521/1200Z
VAAC: TOKYO
VOLCANO: KARYMSKY 300130
PSN: N5403 E15927
AREA: RUSSIA
SUMMIT ELEV: 1513M
ADVISORY NR: 2019/175
INFO SOURCE: HIMAWARI-8
AVIATION COLOUR CODE: NIL
ERUPTION DETAILS: VA EMISSIONS CONTINUING
OBS VA DTG: 21/1120Z
OBS VA CLD: SFC/FL120 N5407 E15927 - N5402 E15951 - N5352 E16008 -
N5339 E15955 - N5355 E15939 - N5400 E15924 MOV SE 15KT
FCST VA CLD +6 HR: 21/1720Z SFC/FL120 N5404 E15949 - N5204 E16155 -
N5141 E16155 - N5312 E15931 - N5503 E15908 - N5508 E15933
FCST VA CLD +12 HR: 21/2320Z SFC/FL120 N5057 E16247 - N4935 E16320 -
N5241 E15947 - N5504 E15856 - N5552 E15937 - N5429 E16003
FCST VA CLD +18 HR: NO VA EXP
RMK: SOME PART OF VA OBSCURED BY MET CLOUD.
NXT ADVISORY: 20190521/1800Z=
Vorig nieuws
Background:
Karymsky, the most active volcano of  Kamchatka's eastern volcanic zone, is a symmetrical stratovolcano constructed within a 5-km-wide caldera that formed during the early Holocene.  The caldera cuts the south side of the Pleistocene Dvor volcano and is located outside the north margin of the large mid-Pleistocene Polovinka caldera, which contains the smaller Akademia Nauk and Odnoboky calderas. 
Most seismicity preceding Karymsky eruptions originated beneath Akademia Nauk caldera, which is located immediately south of Karymsky volcano.  The caldera enclosing Karymsky volcano formed about 7600-7700 radiocarbon years ago; construction of the Karymsky stratovolcano began about 2000 years later.  The latest eruptive period began about 500 years ago, following a 2300-year quiescence.  Much of the cone is mantled by lava flows less than 200 years old.  Historical eruptions have been vulcanian or vulcanian-strombolian with moderate explosive activity and occasional lava flows from the summit crater.
---
Source: GVP, Smithsonian Institution
Meer op VolcanoDiscovery: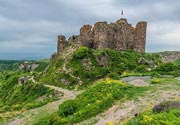 Photos from Armenia
: Armenia is a very photogenic country with a large variety of landscapes showing some very spectacular geology, century-old monasteries and castles, and much more.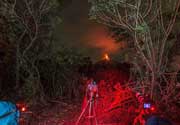 Exploring the unknown
: We sometimes invite you to "test" new itineraries or destinations with us. Such trips are a reduced cost and require a higher degree of flexibility, but often offer a great deal of adventure.