Kirishima volcano news & activity updates
Kirishima volcano in Kyushu, Japan on high alert level
ma, 30 jul 2012, 10:30
10:30 AM | DOOR: T
As our colleague Marc Szlegat reported on Vulkane.Net, the alert level of the Japanese Kirishima volcano (Kirishimayama) was raised last month"orange". This is the third out of 4 warning levels and means that an eruption could occur any time.
Last year in March, the Shinmoedake crater of the complex volcano Kirishima had a violent eruption that make the headlines. The volcano is located close to the other volcano currently on orange alert in Kyushu, Sakura-jima, which last week had a stronger explosion that caused ashfall in the nearby city of Kagoshima.
---
Koppelingen / Bronnen:
Vorig nieuws
Meer op VolcanoDiscovery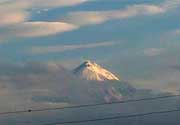 Photos from Vanuatu
: A fascinating archipelago with very active volcanoes, tropical islands and very friendly and hospital people who still live their original Melanesian culture. Browse through our vast collection of photos.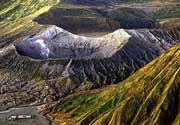 Bromo volcano photos
: Bromo is one of Indonesia's most visited volcanoes. It is the most active vent inside the huge Tengger caldera and erupts every few years.