Kirishima volcano news & activity updates
Kirishima volcano (Kyushu, Japan), activity update: ongoing strong ash emissions
Friday Jan 28, 2011 13:35 PM |
The eruption at Kirishima continues with strong ash emissions. Strong ash falls occurs in southern Kyushu. An ash plume from the eruption seems to reach 7.5 km (25,000 ft) elevation and is drifting southeast, causing (so far minor) disruptions to air traffic.
According to the Japanese Meteorological Agency monitoring the volcano, the eruption poses no thread to the population and a 2 km exclusion zone is established around the volcano.
Vorig nieuws
Thursday, Jan 27, 2011
The explosive eruption of Kirishima goes on unabated. A dense column of ash is being emitted from the vent. Tokyo VAAC issued an ash cloud warning at flight level 210 - in other words, the eruption plume is estimated to have reached or could reach 21,000 ft (ca. 7 km.) ...
Lees alle
Wednesday, Jan 26, 2011
A spectacular eruption started at Kirishima volcano on 26 January 2011. Violent explosions emit dense ash plumes and weak incandescent lava fountains. Small pyroclastic flows are devastating the lower slopes of the volcano, and many ballistic blocks impact in the vicinity of the crater. ...
Lees alle
Meer op VolcanoDiscovery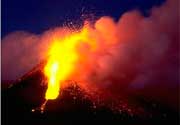 Definition of a volcano
: A volcano is the term for any place on the surface of the earth, where hot molten rock (magma) reaches the surface.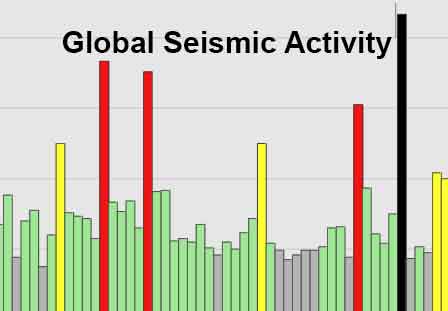 Worldwide earthquake activity level
: What is the level of global earthquake activity today compared to the past? Find out with our graph showing the current and past Global Seismic Activity Level indicator!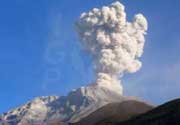 Ubinas activity updates
: The most frequently active volcano in Peru entered a new eruptive phase in 2014. Updates and news are regularly posted on this page.