Merapi volcano news & eruption updates
Merapi volcano (Central Java, Indonesia), update: devastating pyroclastic flows reach 15-18 km, 77 victims reported
Friday Nov 05, 2010 16:27 PM |
The eruption of Merapi, now already the worst since at least 1872, is still increasing, and news are hard to keep up with: extremely large and dangerous pyroclastic flows occured yesterday and today, reaching up to 13-18 km distance. Tragically, more than 77 more people have been killed, bringing the total death toll to over 100 so far.
Most of the new victims were caught by the so far strongest pyroclastic flow that reached the village of Argomulyo( -7.668635, 110.462992) in 18 km distance, where they were burned by the advancing hot surge and the following ash flow.
The evacuation zone has been extended to a radius of 20 km, and around 100,000 people are now evacuated, streching the capacities of the disaster management system to its limits.
Darwin VAAC reported ash plume heights at FL550 (55,000 feet / 16,700 metres a.s.l.), and the plume extending 190 nautical miles (ca 350 km) to the west and south-west.
Wether the pyroclastic flows were produced by explosion column collapse or dome collapse or a combination of both, is unclear.
---
Koppelingen / Bronnen:
Vorig nieuws
Meer op VolcanoDiscovery: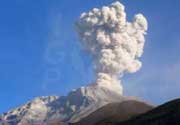 Ubinas activity updates
: The most frequently active volcano in Peru entered a new eruptive phase in 2014. Updates and news are regularly posted on this page.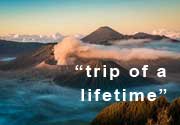 What clients have said
: Browse through feedback about our tours from customers, read what they have said about us!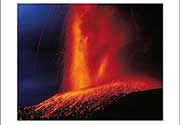 Vulkane Italiens - order online
: 88 pages, brilliant color photos, German language - this beautifully illustrated guidebook is a perfect introduction and companion for all interested in Italy's rich and varied volcanic areas.