Volcano news: Pacaya (Guatemala)
Pacaya volcano (Guatemala) activity update
Saturday Dec 27, 2014 15:49 PM | DOOR: T
INSIVUMEH reported a week ago that activity decreased and that there are currently no signs of explosive activity from the Mackenney crater. Only a steam and gas plume is being emitted.
Vorig nieuws
Meer op VolcanoDiscovery:
Photos taken on our
our tours.
- volcano adventures, group photos, expedition and camp life, people and impressions.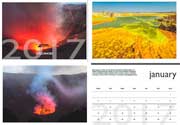 Volcano Calendar 2017
: We're proud to present our 2017 volcano calendar: 13 different and attractive images of volcanoes, volcanic landscapes and phenomena taken during volcano tours over the past few years.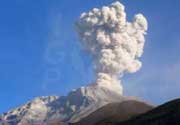 Ubinas activity updates
: The most frequently active volcano in Peru entered a new eruptive phase in 2014. Updates and news are regularly posted on this page.