Kamchatka, Russia: photos - volcanoes, landscapes, colors
Subsets:
Meer op VolcanoDiscovery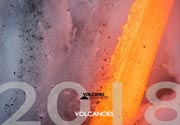 Volcano Calendar 2018
: We're proud to present our 2018 volcano calendar: 13 different and attractive images of volcanoes, volcanic landscapes and phenomena taken during volcano tours over the past few years.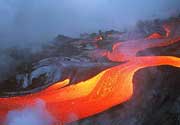 Kilauea volcano photos
: The most active volcano in the world with a record long lasting eruption since 1983: images of lava flows, lava lakes, explosions, lava meeting the ocean, aerials and more.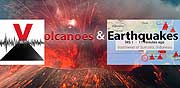 Try our new app!
: Volcanoes & Earthquakes - our new free App for Android shows the latest earthquakes and active volcanoes on a map and as list, as well as volcano news from all the world. You can filter the data shown in various ways, e.g. by magnitude or age of earthquakes, the distance from your location, the status of volcanoes and so on.