Popocatepetl volcano news & eruption update
Popocatepetl vulkaan (Centraal Mexico) activiteit update
Saturday Jun 08, 2013 15:43 PM | DOOR: T
Gezien de huidige lage activiteit (1-3 zwak stoom nl de uitstoot van broeikasgassen per uur), heeft CENAPRED het waarschuwingsniveau verlaagd terug naar "gele fase 2".
Vorig nieuws
Background:
Volcán Popocatépetl, whose name is the Aztec word for smoking mountain, towers to 5426 m 70 km SE of Mexico City to form North America's 2nd-highest volcano.  The glacier-clad stratovolcano contains a steep-walled, 250-450 m deep crater.  The generally symmetrical volcano is modified by the sharp-peaked Ventorrillo on the NW, a remnant of an earlier volcano. 
At least three previous major cones were destroyed by gravitational failure during the Pleistocene, producing massive debris-avalanche deposits covering broad areas south of the volcano.  The modern volcano was constructed to the south of the late-Pleistocene to Holocene El Fraile cone.  Three major plinian eruptions, the most recent of which took place about 800 AD, have occurred from Popocatépetl since the mid Holocene, accompanied by pyroclastic flows and voluminous lahars that swept basins below the volcano.  Frequent historical eruptions, first recorded in Aztec codices, have occurred since precolumbian time.
---
Source: GVP, Smithsonian Institution - Popocatepetl information
Meer op VolcanoDiscovery:
Become a supporter
: To continue to run this website full of free information about earthquakes and volcanoes to you, we also need to pay our developer, servers and in addition, we spend lots of our free time on it. If you enjoy it, we will greatly appreciate your support. If you like, you can send us a small donation.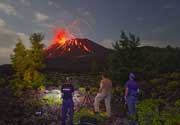 Volcano & eruption special tours
: Tours dedicated to usually a single volcano currently in eruption. These trip, sometimes offered only last-minute through our newsletter, are among the most adventurous and most popular in our program.
The term for all fine-grained volcanic products fragmented during explosive eruptions.