Sabancaya volcano news & activity updates:
Sabancaya volcano Volcanic Ash Advisory: INTERMITTENT EMISSIONS OBS VA DTG: 10/0815Z
Sunday Dec 10, 2017 09:15 AM |
Volcanic Ash Advisory Center Buenos Aires (VAAC) issued the following report:
FVAG01 at 09:01 UTC, 10/12/17 from SABM
VA ADVISORY
DTG: 20171210/0900Z
VAAC: BUENOS AIRES
VOLCANO: SABANCAYA 354006
PSN: S1547 W07150
AREA: PERU
SUMMIT ELEV: 19576 FT [5967 M]
ADVISORY NR: 2017/1338
INFO SOURCE: GOES-E. GFS WINDS. VOLCANO WEB CAMERA.
AVIATION COLOR CODE: NOT GIVEN
ERUPTION DETAILS: INTERMITTENT EMISSIONS
OBS VA DTG: 10/0815Z
OBS VA CLD: VA NOT IDENTIFIABLE FROM SATELLITE DATA
WINDS FL180 170/15KT FL240 165/15KT FL300 270/15KT
FCST VA CLD +6HR: 10/1430Z
FCST VA CLD +12HR: 10/2030Z
FCST VA CLD +18HR: 11/0230Z
RMK: ASH IS NOT VISIBLE IN NIGHTTIME INFRARED IMAGERY HOWEVER THERMAL
WEBCAM SHOWS INTERMITTENTS PUFFS OF VA...SMN
NXT ADVISORY: WILL BE ISSUED BY 20171210/1500Z=
Vorig nieuws
Meer op VolcanoDiscovery: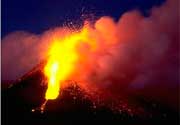 Definition of a volcano
: A volcano is the term for any place on the surface of the earth, where hot molten rock (magma) reaches the surface.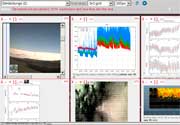 Live webcams of Bardarbunga volcano
: Watch live webcam image, seismic and other real-time data in real time. If the large Icelandic volcanic erupts, you could follow the activity here.