Sakurajima volcano news
Thu, 13 Aug 2009, 07:56
Eruptions and explosions from Sakura-jima during 5-11 August produced plumes that rose to altitudes of 1.8-2.7 km.
Tue, 10 Mar 2009, 13:13
During 28 February-1 March explosions were reported from Showa Crater ejecting bombs that landed as far away as 1.3 km. Also deformation was detected and further eruptions on 3 March.
Thu, 15 Jan 2009, 23:02
The Tokyo VAAC reported that on 9 January there was an eruption at Sakura-jima that produced a ash plume.
Meer op VolcanoDiscovery:
Volcano Videos on YouTube
: Our YouTube channel: volcanic activity world-wide shown through videos taken during our volcano tours and expeditions complimented by some time-lapse videos from webcams.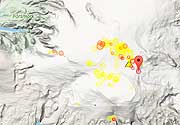 Latest quakes at Katla volcano
: One of Iceland's most active and dangerous volcanoes is showing signs of unrest and statistically due for a new eruption. Earthquakes could give a clue.