Sakurajima volcano news
Sun, 24 Feb 2013, 20:17
Activity has picked up again over the past days with more frequent explosions 1-5 per day).
...meer
Lees alle
Tue, 19 Feb 2013, 17:33
Thu, 14 Feb 2013, 16:40
Explosions from the Showa Crater during 6-12 February generated plumes that rose to altitudes of 1.2-3.7 km (4,000-12,000 ft) a.s.l. and drifted SW, S, SE, E, and NE. (
Smithsonian / USGS Weekly Volcanic Activity Report
)
...meer
Lees alle
Mon, 11 Feb 2013, 17:09
Wed, 6 Feb 2013, 14:08
The volcano continues to have relatively many explosions, but at very irregular intervals: during 4 Feb, there were 5 explosions, none yesterday, and 3 so far today.
...meer
Mon, 4 Feb 2013, 08:20
After a phase of several relatively strong explosions with ash plumes often reaching 10,000 ft (3 km) during 31 Jan - 2 Feb, the volcano seems to have taken a short rest, with only one small eruption recorded during the past 2 days.
Fri, 1 Feb 2013, 13:22
The volcano has been very productive lately. There have been several relatively large explosions over the past days, producing ash plumes rising to 10,000 ft (3 km) altitude.
Mon, 28 Jan 2013, 14:32
Small to moderately sized explosions continue at relatively high frequency (up to 5-6 per day), with ash plumes rising 5-10,000 ft (1.5-3 km).
Wed, 23 Jan 2013, 11:53
The volcano remains quite active, with an elevated number of explosions. Yesterday (22 Jan), there were at least 5 with ash plumes reaching 6-9000 ft (1.8-2.7 km). This is a lot considering the long-term average of 1-2 per day.
...meer
Lees alle
Fri, 11 Jan 2013, 10:19
The volcano continues to produce small to moderate explosions at relatively high frequency of 3-4 per day. Ash plumes have been in the range of 6-9,000 ft (1.8-2.7 km).
Show more news
Meer op VolcanoDiscovery:
Volcano Videos on YouTube
: Our YouTube channel: volcanic activity world-wide shown through videos taken during our volcano tours and expeditions complimented by some time-lapse videos from webcams.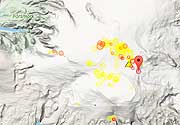 Latest quakes at Katla volcano
: One of Iceland's most active and dangerous volcanoes is showing signs of unrest and statistically due for a new eruption. Earthquakes could give a clue.