Sakurajima volcano news
Sun, 23 Sep 2018, 20:15
Sat, 22 Sep 2018, 11:45
Fri, 21 Sep 2018, 23:00
Thu, 20 Sep 2018, 23:30
Thu, 20 Sep 2018, 06:30
Wed, 19 Sep 2018, 14:00
Mon, 17 Sep 2018, 10:15
Sun, 16 Sep 2018, 22:15
Sat, 15 Sep 2018, 22:45
Fri, 14 Sep 2018, 18:00
Show more news
Meer op VolcanoDiscovery:
Volcano Videos on YouTube
: Our YouTube channel: volcanic activity world-wide shown through videos taken during our volcano tours and expeditions complimented by some time-lapse videos from webcams.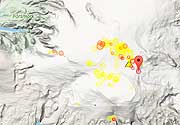 Latest quakes at Katla volcano
: One of Iceland's most active and dangerous volcanoes is showing signs of unrest and statistically due for a new eruption. Earthquakes could give a clue.