Recent inflation of the Santorini volcano since 2011 measured by Georgia University Scientists
GPS meter installed on the caldera rim of Santorini
Santorini has remained relatively calm for 60 years since its last eruption in 1950, but started to re-awake in early 2011 with beginning inflation and increased seismic activity under the volcano.
A brand-new study of a team around Professor Andrew Newman, a geophysicist from Georgia Tech university, is now publishing the results of deformation measurements using precise GPS measurements in the scientific journal Geophysical Research Letters.
The scientists have set up more than 20 GPS stations on the island in 2006. From 2006 until early 2011, no significant relative movements were measured. This changed in early 2011: "
After decades of little activity, a series of earthquakes and deformation began within the Santorini caldera in January of 2011
," said Newman. "
Since then, our instruments on the northern part of the island have moved laterally between five and nine centimeters. The volcano's magma chamber is filling, and we are keeping a close eye on its activity.
"
Newman cannot be certain whether an eruption is imminent since observations of such activity on these types of volcanoes are limited. In fact, similar calderas around the globe have shown comparable activity without erupting. However, Newman says the chamber has expanded by 14 million cubic meters since last January. That means enough magma has been pumped into the chamber to fill a sphere 3 football fields across.
The most likely scenario for the next eruption (should it occur within years to decades) would be an event comparable to the eruptions in the past centuries, such as the 1925-28,l 1939-41 eruptions.
"
That could be dangerous
," notes Newman. "
If the caldera erupts underwater, it could cause local tsunamis and affect boat traffic, including cruise ships, in the caldera. Earthquakes could damage homes and produce landslides along the cliffs.
"
More than 50,000 tourists a day flock to Santorini in the summer months (from May to October), and it is common to see 5-10 cruise ships in the caldera near Fira.
Santorini has produced one of the largest eruptions in human history. The Minoan eruption which occurred in around 1613 BC, was a major plinian eruption ranking 6-7 on the VEI scale and erupted about 30 cubic km of rhyolite magma. It devastated and reshaped the island at that time, which was inhabited by a sophisticated people related to the Minoans, and caused regional and world-wide disturbances.
Such an event is fortunately not likely to be expected any time soon. The geologic history of Santorini suggests that such major eruptions have been occurring at large intervals of roughly 20-30,000 years, during several cycles during the past 400,000 years, and follow long (thousands of years) quiescence intervals. According to the study of Newman, the current inflation in the magma chamber is less than 1 percent of the Minoan blast.
(
Source:
adapted from a recent Georgia Tech press release
)
Meer op VolcanoDiscovery
Photos from Italy
: Italy - the cradle of volcanology. Browse through various photo galleries mainly from its numerous volcanic areas - from Naples to Etna and the Eolian Islands and more.
Introduction to Plate Tectonics
: The Earth's upper, rigid layer is broken into several plates which are in constant motion to one another. Most earthquakes and volcanoes occur as result of these plate boundaries.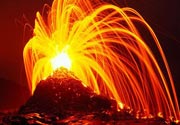 Volcano Tours on Hawai'i
: The Hawaiian Islands are not only home to the most active volcanoes in the world, Kilauea and Mauna Loa on the Big Island, but also boast a unique natural environment. Born by volcanic activity of a very active hot spot in the middle of the Pacific Plate, they are a showcase of natural history.