Latest news & updates about La Soufrière de Guadeloupe volcano:
Soufrière de Guadeloupe volcano (West Indies, France): seismic swarm
ma, 5 okt 2020, 07:28
07:28 AM | DOOR: MARTIN
A seismic swarm was detected
at the volcano that began on 29 September at
05:33 local time
and is ongoing.
Instruments recorded 306 very low magnitude earthquakes (M
Vorig nieuws
Weak volcanic unrest continues at the volcano. During 21-23 Dec 2018, another small seismic swarm took place under the volcano totaling 88 recorded earthquakes of very small magnitudes at shallow depths (less than 2.5 km beneath the summit of the lava dome). ...
Lees alle
The volcano has been showing weak signs of unrest since the beginning of 2018, in the form of increasing numbers of tiny earthquakes under the volcano. ...
Lees alle
Meer op VolcanoDiscovery
If you find the website useful and would like to support us and help keep it alive and improve it, please consider
making a small donation
.
Thank you!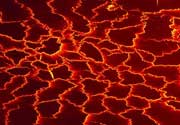 Nyiragongo volcano photos
: Nyiragongo (DR Congo) has the world's largest and most active lava lake. Enjoy our pictures taken during several expeditions over the past years.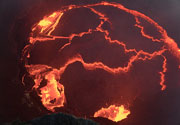 Photos from lava lakes in the world: Erta Ale, Nyiragongo, Hawaii, Vanuatu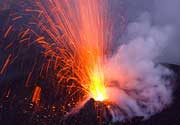 Climbing Stromboli volcano
: Stromboli provides one of the most remarkable opportunities to watch volcanic eruptions from close: a natural ridge located 150 m above the active vents. A classic and all-time favorite tour by anyone interested in seeing active volcanoes!